Open Kitchen Concept Spreads to Hotels
By Simon Hudson Endowed Chair in Tourism & Hospitality, University of South Carolina | January 2017
As TV chefs have morphed into global celebrities in the era of TV reality shows, a new restaurant trend in Open Kitchen Dining has emerged. Although the concept is not totally novel – after all, sushi bars have been doing it for years – it is the polished level of performance, highbrow cuisine and the proliferation of the trend that is more recent. All around the world, restaurants are putting their executive chefs on display, cooking part, or even all, of a meal right in front of diners who often sit at counters, watching every move. Cooking has become a reality show, adding an extra cachet to the restaurant experience. This ascendance of culinary scrutiny has gone hand in hand with a heightened interest in farm fresh ingredients and a general food fetishism which encompasses new fads in organic, gluten-free, lactose-free, vegan and vegetarian eating.
In today's 'Information Age', where transparency and information sharing inform how we live our lives, it is not surprising that restaurants have adopted a more visible approach to preparing food. It provides customers direct access to information about the establishment's hygiene, professionalism and culinary excellence. The model spans cuisines – from sandwiches to sushi – and categories – from fast food to fine dining.
The open kitchen trend seems to have been born in big cities such as New York, where chefs originally cooked within view of diners largely due to tight space constraints, but it has now spread worldwide, as far as Kenya, South Africa and Kobe Japan. Investors are renovating their restaurants to accommodate the model in a bid to offer their customers a unique experience. A good example is the 19-seat Kitchen Table, in London's Soho district, a restaurant that encourages full interaction with the chefs as they prepare the food. Awarded a Michelin star in 2014, Kitchen Table prepares, cooks and serves a daily changing 10-15 course menu of meticulously sourced and foraged British ingredients. Head Chef James Knappett, who has previously spent time in the kitchens at The Ledbury, noma and Per Se, says the idea of the restaurant came from wanting to do something completely different: 'In my previous jobs I was cooking for over 100 people a day in other people's restaurants and I went home not really knowing if anyone enjoyed their meal or what their experience was like. So I wanted to put the guests right in front of us and really find out what they are thinking about food. We can also interact with them, and tell them in detail where the ingredients come from.'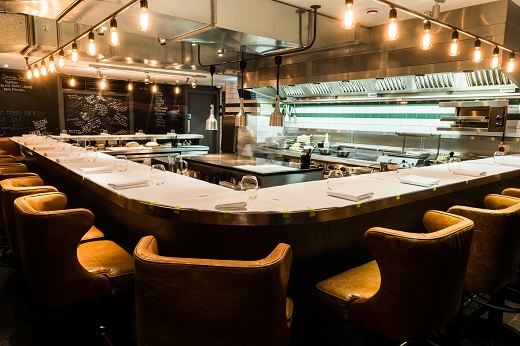 Kitchen Table in London's Soho
Forward-thinking hotels are also experimenting with the open kitchen concept. Just outside San Diego, California, the Kitchen Counter experience at the Seasons Restaurant, Four Seasons is advertised as 'culinary magic'. 'Socializing and dining around the kitchen is the heart of Seasons Restaurant's operating philosophy,' says Demi Ortega, Regional Vice President and General Manager of Four Seasons. 'We wanted to create an environment where guests felt at home and could stay as long as they please. Here you'll know the chef's making the food and know that our team will take care of your personal needs and understand your discerning taste.' The culinary team at Seasons Restaurant prepares a five-course menu before a group of six diners, explaining about the choices of seasonal ingredients, cooking techniques and flavors. Rather than mere nourishment, the experience is touted as a 'thrilling culinary adventure' which can be customized to different tastes and dietary requirements. Appropriate wines are served with each course, adding a viticulture educational element. 'There is no official menu, the Kitchen Counter experience is seasonally driven and allows the chefs to share their personal story of what inspires them,' Ortega explains. 'It showcases the creative soul of the kitchen and give guests a sneak peak of what takes place, from the preparation, to the plating, to the story behind why the chef selected these ingredients, flavor combinations, and preparation style.'
With elegant decor and a relaxing ambiance, the Four Seasons Aviara is a rambling complex of topnotch apartments and villas with pools, spa, fitness center, salon and shop set on a lush, landscaped hillside near Carlsbad, around 45 minutes from downtown San Diego. But the signature culinary experiences at Seasons Restaurant – which also include private chef, chef's table and private dining room options - have put the Aviara's celebrity chefs at the forefront of San Diego's culinary scene. 'This kitchen is reminiscent of dining at your own home, providing comforts of your kitchen and enjoying the relaxed atmosphere of interacting with members of the family,' says Ortega.