Remote, Resilient, and Right: Tomorrow's Hospitality Design
By Bruce McEvoy Design Director, Perkins and Will | July 19, 2020
Business travel, never mind vacation, in an artfully conceived hotel with flawless service seems like a distant memory. The good news is that we are entering the transition that follows every crisis. There is an end in sight for sheltering in place, if not for social distancing per se.
Today that means we continue to listen to the World Health Organization (WHO) and the Centers for Disease Control (CDC) while we start to plan for being absolutely focused on health and safety for the foreseeable future. And how can we be resilient and anticipate the impact of unforeseeable disruptions? As designers we need to keep pace with the speed of hard-to-predict change and build empathetic strategies into our vision of the future.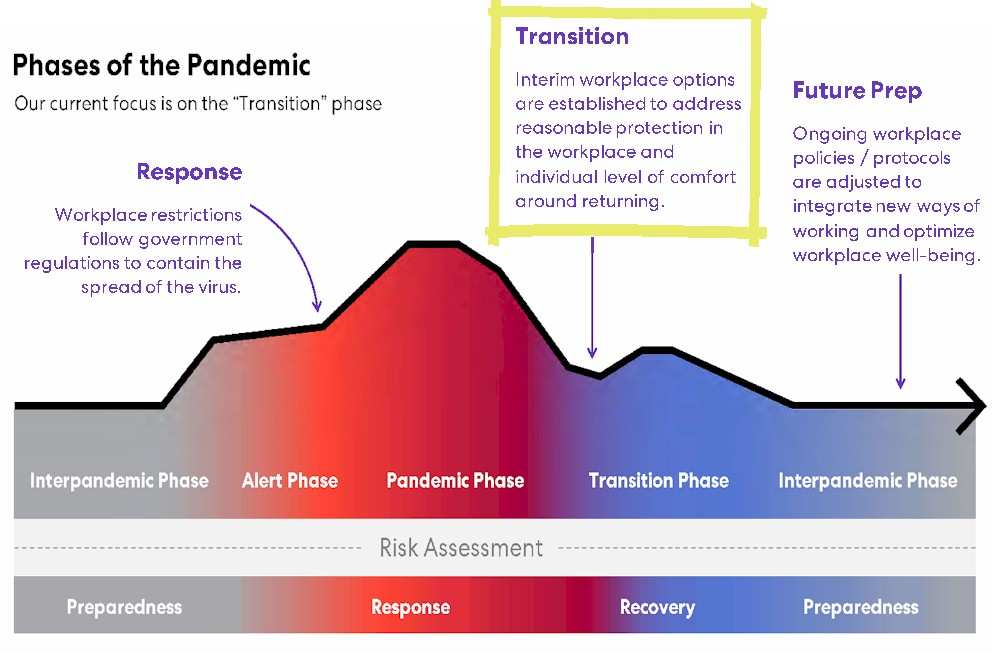 Recently published by Perkins and Will, the Road Map to Return breaks down the return to the office. The diagram depicts our phases of a pandemic, with today's current timeline falling into a transition period.
The Transition Period
There are signs that people's confidence is bouncing back and the industry can get back to business. After a month of record lows, the Transportation Security Administration (TSA) saw a jump of almost 50 percent over Memorial Day weekend to 128,875 screenings, including workers and crew members, from April's low point two weeks prior. After weeks of quarantine, travelers across the U.S. and abroad point to the market need for rooms that have been closed for a significant time. Yet a lot needs to happen while confidence is creeping back to the level where people feel comfortable returning to social proximity and air travel.
Business has already been permanently transformed by sanitizing and protective measures and remote working. Outside of work, we have all been forced to make a leap to virtually connecting with one another. Businesses are going to have to lead us back to social life by prompting reassuring physical interactions, while business travelers might very well be the first to transition out of remote working. How are hotels going to support these travelers with a wonderful stay for what will initially feel risky but necessary activity?
Establishing a new normal will be no small challenge. It's good to start with what we can know. First, we must carefully analyze each environment in the guest experience as well as back-of-house operations and operational burdens to ensure health and safety. Keep in mind that ongoing analysis will itself become a temporary burden, while the industry recalibrates to regulatory changes and changes in consumer expectations and confidence. Meanwhile, hotels need to build the desired confidence by fully communicating their commitment to their guests' health and safety.
Before the first guests find their way back into these spaces, the spaces need to be adapted in keeping with CDC guidelines and public-health regulations, and the modifications need to be made and communicated to guests in a succinct and elegant way. The germophobe guest who was a fraction of the business in the past will be most travelers for the time being, so communication has to start way ahead of the front door with the redesign of websites to broadcast and present well-conceived plans to keep guests safe.
Then every step of the guest experience from arrival to departure should be reconsidered. From luggage at the porte cochere through check-in, public corridors, and amenities all the way to the guest room, every interaction must be reevaluated for potential risk. Luggage screening should now include decontamination for guest and staff. Check-in should be touch-free; sanitized keys or mobile tech can be installed to mediate interaction with hotel systems. High-touch areas will need constant attention by visible staff. Use of amenities will need to be limited and followed with visible sanitizing protocols.
Food and beverage operations will also need to shift. Although packaged food and single-use containers and cutlery violate many hotels' commitment to sustainability and the environment, the need to reignite business within the strictures of aggressive health and safety guidelines has to take priority during the transition to the new normal.
Rooms pose the greatest challenge, because they will be highly scrutinized by guests. Aerosol decontamination, UV lights, temporary slip covers for furniture, and impeccable tidiness will send a strong message of vigilance. Hotels that have already committed to a single point of technology in each room-for environment controls, menus, local attractions, and hotel information-will achieve a higher level of confidence from guests. Again, the goal is to anticipate risk of infection, both real and perceived, out of empathetic respect for their guests' legitimate concerns about the pandemic threat to their own well-being.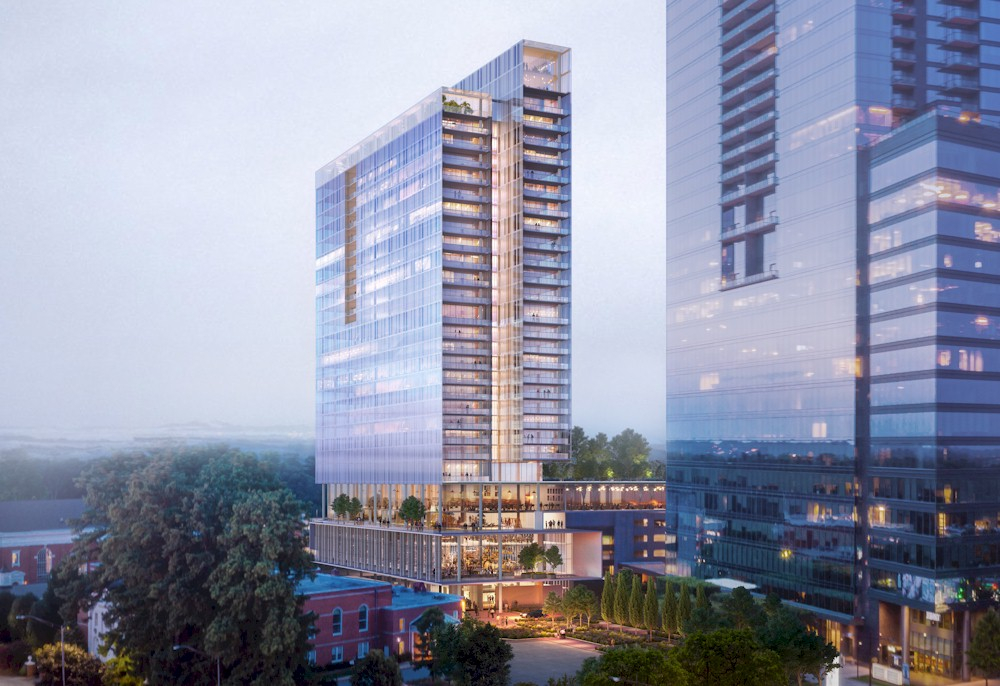 Project: Ritz-Carlton Buckhead Hotel and Residences, Atlanta, Georgia
Tomorrow's Normal
So what about the day after tomorrow? As a designer, I work forward from the past, listen to the culture of the present, and dream of a future that makes all of us a better version of ourselves. Here's where I want to speculate about how we can design more resilient hotels that can better weather future disruptions, focusing on three major issues mentioned above: the impact of confidence on social life and travel, the guest of tomorrow, and hotel design and operations.
The memory of 2020 is going to weigh on the culture as we return to social settings and start to travel again. Hotels can balance that weight with confidence by acknowledging that they will likely need to convert and adapt again in a future crisis. They are then in a position to work with designers to build that conversion and adaptation into their business and operations model.
Hotels might dedicate new marketing channels and personnel to health and safety protocols. This move can then be integrated into the brand identity as a wellness asset, one aspect of an experience that actually makes a guest feel better physically and mentally. Guest confidence will be earned by properties that can convert quickly, communicate their plan, and become sanctuaries in a turbulent world.
At the same time, the business practices and uses of technology that have emerged during the response to COVID-19 have affected the future of business travel. On the one hand, hotels have lost a large share of their nightly bookings. On the other hand, more people know that they can work absolutely anywhere. Hotels will court business by convincing tomorrow's crisis-wary guests that they can only do the work that needs to get done in the particular environment hotels have created for that purpose.
Designers can help hotels tap into the essence of their surroundings and create a seductive reason to choose that particular place in the world. To build more substance under the allure, hotels will have to provide an environment that seamlessly blends the real office's convenience and support. We may also witness the mainstreaming of the 1990s-era tech nomads as companies look to a talent pool that is unrestricted by geography. This hybrid persona, traveling for both leisure and business, could redefine the balance and tone of amenities and programming in hotels of the future.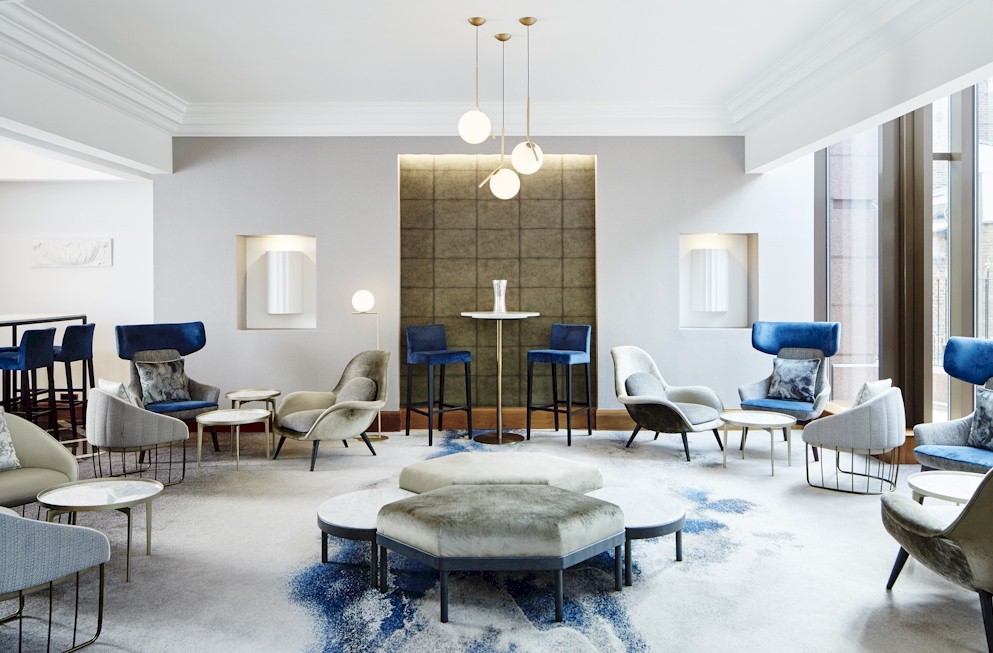 Project: Marriott Marble Arch, London, England
Event-based retail, co-branded events, wellness programming and nutrition, and culturally specific celebrations might become part of a property's identity. The spaces and brand standards of hotels will need to embrace differences across larger platforms and celebrate them through social networks and media. The important thing to remember is that future travelers will choose their hotel in light of the wide-open option to connect virtually. Hotels will need to become cultural hubs that offer surprising experiences while supporting the brand idea.
Guests have always been at the center of hospitality design. That is not going to change as we pivot to tomorrow's normal. What will change in the hotels of the future is all the ways in which back-of-house activity and operations will support the guests' needs. We have learned that hotels that embrace and invest in technology fare better in times of crisis. The ability to complement a unique experience with a high-functioning digital platform not only serves different types of travelers, but also supports conversion and transition.
For design teams, thinking through a vision for hotels in future states of crisis, transition, and normal operations will be the easy part, especially when they are supported by strong management, clear positioning, and future technology. The harder part will be the research-teasing out the reason a place really resonates with people and gives them that memorable experience and singular taste of culture.
The past few months have opened a new horizon of mobility. Will the hotels of the future integrate location, services, and amenities to support our most talented, dynamic, mobile generation ever? If we design them right, it could be our tomorrow.
HotelExecutive retains the copyright to the articles published in the Hotel Business Review. Articles cannot be republished without prior written consent by HotelExecutive.