Remote, Resilient, and Right: Tomorrow's Hospitality Design
By Bruce McEvoy Design Director, Perkins and Will | July 19, 2020
Business travel, never mind vacation, in an artfully conceived hotel with flawless service seems like a distant memory. The good news is that we are entering the transition that follows every crisis. There is an end in sight for sheltering in place, if not for social distancing per se.
Today that means we continue to listen to the World Health Organization (WHO) and the Centers for Disease Control (CDC) while we start to plan for being absolutely focused on health and safety for the foreseeable future. And how can we be resilient and anticipate the impact of unforeseeable disruptions? As designers we need to keep pace with the speed of hard-to-predict change and build empathetic strategies into our vision of the future.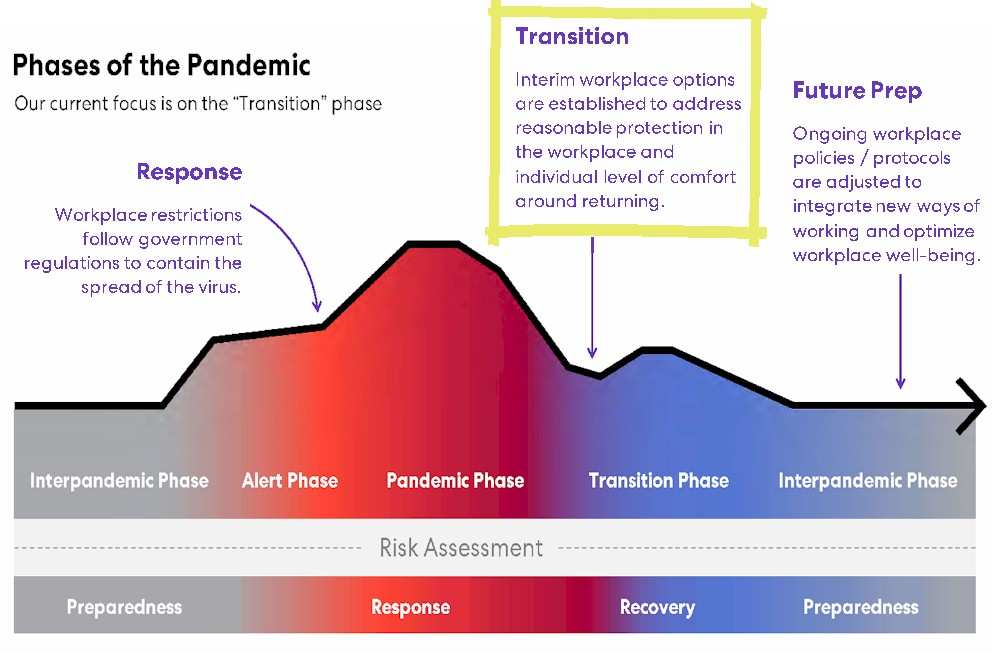 Recently published by Perkins and Will, the Road Map to Return breaks down the return to the office. The diagram depicts our phases of a pandemic, with today's current timeline falling into a transition period.
The Transition Period
There are signs that people's confidence is bouncing back and the industry can get back to business. After a month of record lows, the Transportation Security Administration (TSA) saw a jump of almost 50 percent over Memorial Day weekend to 128,875 screenings, including workers and crew members, from April's low point two weeks prior. After weeks of quarantine, travelers across the U.S. and abroad point to the market need for rooms that have been closed for a significant time. Yet a lot needs to happen while confidence is creeping back to the level where people feel comfortable returning to social proximity and air travel.