Drawing the Line Between Good and Bad Hotel Design
By David Ashen Principal & Founder, dash design | January 03, 2021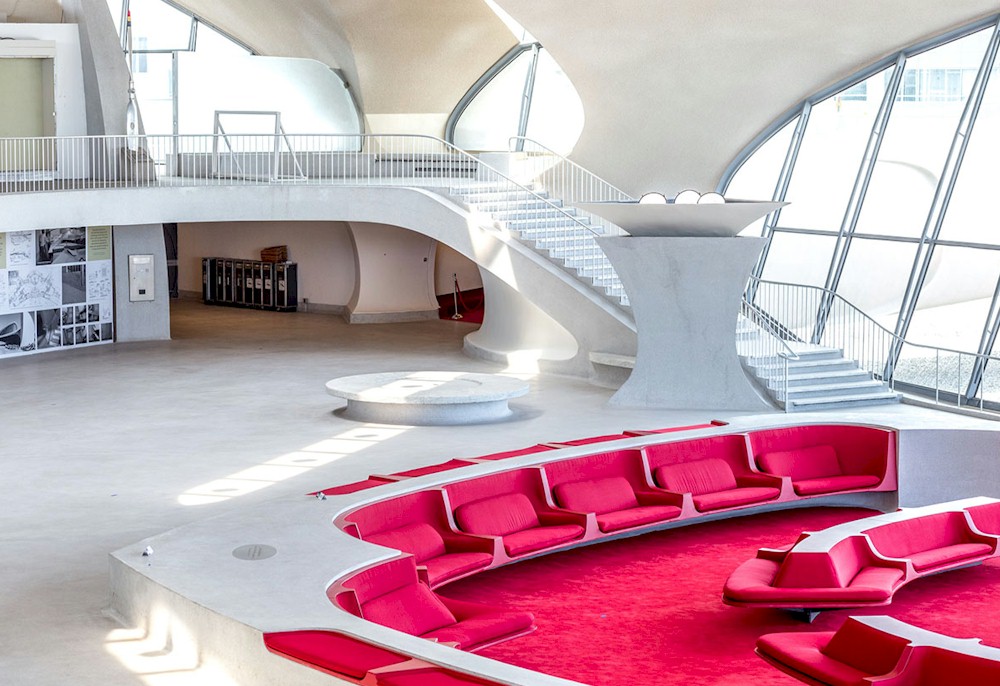 "The Good, the Bad and the Ugly," a 1966 Italian Western film with a title so catchy it's become part of our culture, could be a way to summarize hotel design in modern times. As brands look to differentiate hotels, and often turn to themes to do so, it becomes very easy to go from good to bad – and possibly even ugly!
A line needs to be drawn and it's surely a fine line. While some of the judgement boils down to opinion or taste, the following DOs and DON'Ts might offer inspiration and guidance for hotel designers and owners alike. Here are a few worth sharing, with examples of themed hotels that we can all learn a lesson or two from...
DO Know When to Say When
There's a real difference between kitsch, over-themed and meaningful design. A strong example of this phenomenon is the recently opened TWA Hotel, located at John F. Kennedy Airport in Queens, NY, which debuted in May 2019. Upon my first visit, I had mixed feelings. After all, the transformation of the iconic 1962 TWA Flight Center, designed by Eero Saarinen, and addition of two buildings (yes, wings) flanking it, into a 512-room, first-class hotel with a conference space, hip restaurants, retail spaces and an aviation history museum seemed so on point it could be described as magical. Add in views of JFK's runways and the TWA Flight Center, and a wow-worthy lobby, and the appeal is obvious.
However, too much became enough when the theme went overboard with flight-themed uniforms and vintage cars in the lobby and outside – taking on a decidedly amusement park feel. After all, when aspects of the theme appear to be floating in space, that's when they cross the line from playful to tacky, mainly because they are not grounded in something deeper. Much like going to an amusement park, heading to a singularly themed hotel can be fun every once and a while, or even just once as a novelty, but it becomes less likely the guest will head back soon.
Better in striking the balance is Hotel Dylan, a boutique property in Woodstock, NY, a place the owners describe as having "bohemian sophistication" amidst the Hudson Valley's creative community. The chill peace, love and hippie vibes are definitely there and the theme is felt in everything from the name of the hotel itself to its rooms, which are named after the rock n' roll icons of Woodstock, and carried out in decor like "Love is All You Need" pillows. Even the amenities reflect the theme, such as board games from the period and vinyl records for guests to enjoy. But what separates this hotel from the ones that go too far is that you could easily remove the swag and would be left with a chic hotel with iconic artwork from Elliott Landy and Michael De Feo that could stand on its own anywhere.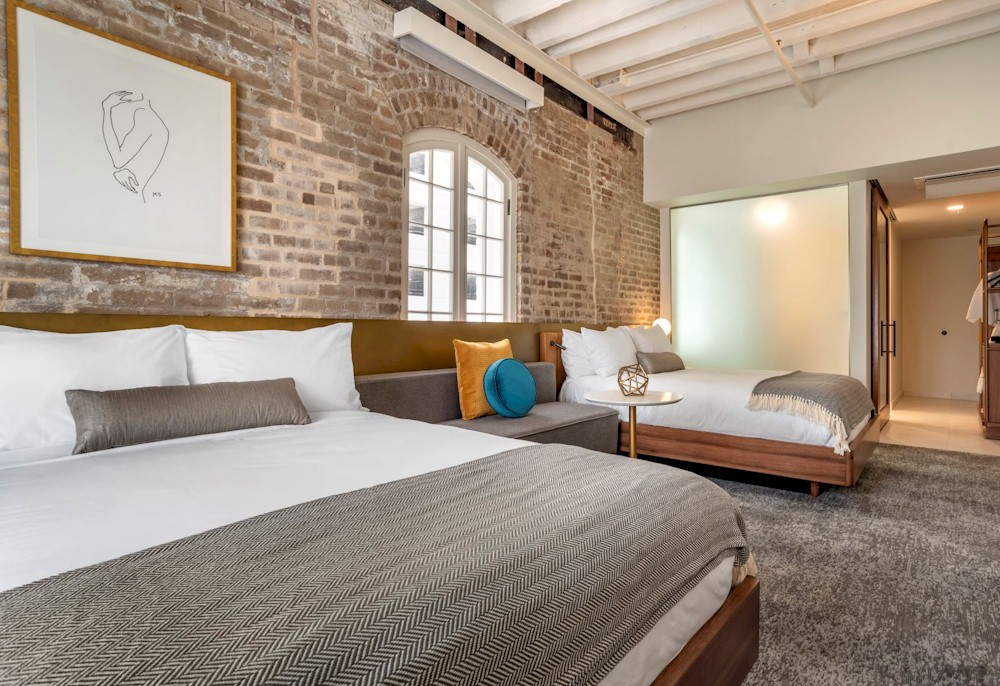 One11 Hotel, New Orleans, LA. Located in a former American sugar factory, inside the vibrant French Quarter, dash design pays homage to the "new" New Orleans, by embracing the integrity of the warehouse's existing raw structure, and juxtaposing it with sleek and evocative layers. Photo credit: CS3 Photography
DON'T Be Afraid to Slightly Rewrite History
Down in Manhattan's Flatiron District, the Freehand New York hotel takes on a theme, much like the TWA Hotel, but in a far different way. Designed by Roman and Williams, known for their work as movie set designers, the design is a not-so-literal nod to the building's history as the former 1929 George Washington Hotel. A period piece, a retro Tikki bar with an authentic feel, is created at the hotel's bar, Broken Shaker.
The designers recreated something that might have existed in that time period, yet still feels relevant and current, as if they've gone back in time and brought those same furnishings forward. The Freehand skipped the costumed staff serving drinks and instead served up surprising and inspiring surrounds that combine restored original parquet floors and intricate moldings with colorfully painted walls, sheepskin rugs and an art-drenched atmosphere, including works commissioned by Bard College students and alumni and a rooftop tiki bar. The end result is retro, but very now, and the kind of memorable hotel experience that designers hope for.
Similarly, the 83-room boutique hotel we just finished designing in New Orleans, LA, the One11, follows this sweet golden rule. Built in the 1880s and operating up until the late 1930s as a sugar refinery, the One11 is the French Quarter's first new hotel to open in 50 or more years and is located in a landmark seven-story building at 111 Iberville. With all that history and such an iconic location, several obvious themes could have been carried into the design; after all, many New Orleans hotels boast the oh-so-expected fleur-de-lis or Creole stylings, a sameness we found in abundance when we audited hotels in the city.
There was also the ability to tie to the building's history as American Sugar Refining, which is what was done, but in a smart way. Subtle plays to the theme are present through the warm, caramel and molasses color palette and textures that are refined and reflective of this unique place. Homage is paid through beautiful exposed wood timbers and brick walls, which celebrate its history without embellishing on it. The additional decor in unexpected and modern and layers upon what is already there, including plenty of mohair, leather, wool, stone and smooth, lacquered or painted wood finishes, like those found in the lobby and bar fronts, that contrast with the richness of the One11's exposed ceilings and old wood beams. The renovation fit into its setting, but yet created an out-of-the-ordinary design and abundance of warmth that feels convivial and very New Orleans.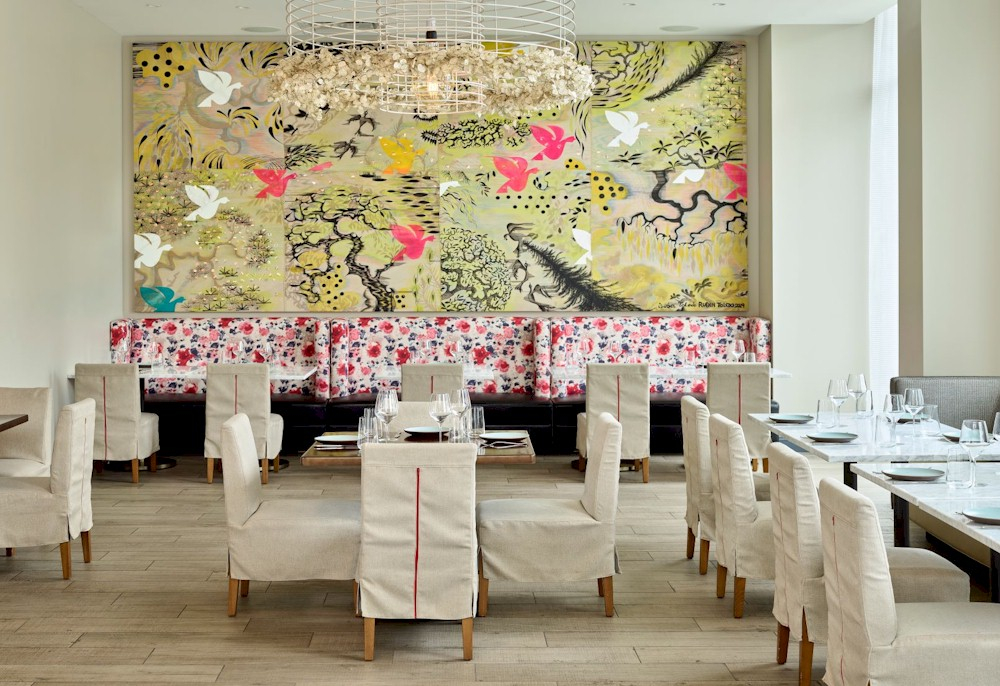 The MC Hotel , Montclair, NJ. The artwork is titled Birds Eye" and was created by Ruben & Isabel Toledo. Linen bands are woven together, with embroidered stitchery, graphite oil, acrylic paint and plastic elements and is currently exhibited against the dining room wall at Allegory restaurant. Photo credit: Frank Oudeman
DO Be Careful with Curation
Ever since the 21c hotel brand launched the 21c Museum Hotel in Louisville, KY, it has set the bar for theming a hotel around art and creating an experience that leaves guests longing to go back. That first boutique hotel in the brand's portfolio, intentionally opened in a secondary market, just like the ones I've visited in Durham, NC and Cincinnati, OH, offer a full suite of comfort, dining and business amenities alongside thousands of square feet of exhibition space featuring local artists from the area, with rotating exhibits.
The food and beverage offerings are localized, but the public and meeting spaces all have great lighting and clean white walls to serve as the perfect backdrop to shine the spotlight on the culture and high- quality art of each of the cities they are based in. So, while the theme is there, the experience is incredibly authentic.
Along these same lines, we just finished design for The MC Hotel in Montclair, NJ, another art-themed property located in the heart of that city's thriving artistic community. Located on a major corner, and with a very small lobby that serves primarily as a bar and restaurant with a neutral backdrop, there was an opportunity to make the new hotel feel connected to its surroundings and a welcome part of the area through properly thinking through the theme. This leads me to a key point of this tip: if you're going to do it, do it right. Our firm brought in art curator extraordinaire Paige Powell, who once worked with Andy Warhol and been called his muse, to consult and curate a collection for The MC Hotel and she delivered, bringing in artists with a connection to Montclair.
Among them was famed illustrator Ruben Toledo, who created a sprawling mural that beautifully captures the flora and fauna found in Montclair. Other artists' work showcases the amazing public and outdoor spaces, such as parks, and wildlife and birds, as well as sculptural pieces from a nearby beach refuge. The city's diversity is also highlighted through works from Indian and Jewish artists, who all put their unique interpretation on pieces that tie in some way to Montclair. A standout is the 8-foot by 16foot fabric mural, the last collaboration between the late fashion designer Isabel Toledo and her aforementioned husband, Ruben Toledo. The theme is strong in this example, but the hotel is not a cobbling of relics, but instead a story about Montclair realized through tasteful art.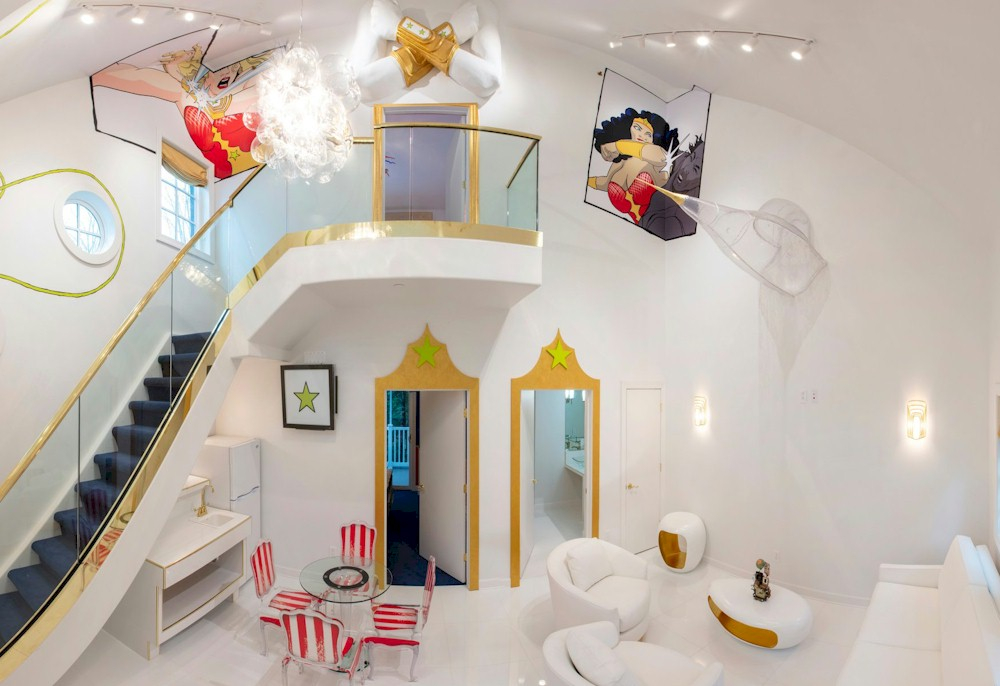 The Roxbury, Stratton Falls, NY
DON'T Be Afraid to be One-of-a-Kind
Sometimes the whole point is to stand out and unabashedly proclaim who you are as a brand and the best example of nailing that is The Roxbury at Stratton Falls. Located 150 miles north of New York City, in New York's Catskills region, The Roxbury sets out, in its own words, to "imagine if Alice in Wonderland married Willy Wonka and set up residence in Oz." It realizes that fantastically fun vision full force through two locations just down the road from one another – a roadside motel portion with rooms that are inspired by TV shows and movies from the 60s and 70s and Hollywood and fairytale themed cottages.
From the Wizard of Oz and The Partridge Family to Cinderella and The Jetsons, a guest could stay many times over and have a very different experience each time. While some hotels become too kitsch, here that's the whole point. In fact, by bucking the boutique trend and trading in minimalism for maximalism, The Roxbury was named "The Most Instagrammable Hotel in North America for 2020" and proves that there may be no such thing as too much of a good thing.
Here's to theming in a way that connects the dots, brings history into the present, tells a story and ensures the guest has a memorable time.
HotelExecutive retains the copyright to the articles published in the Hotel Business Review. Articles cannot be republished without prior written consent by HotelExecutive.