Revenue Management Helps Stave off Discounts During Covid-19 Crisis
By Bram Gallagher Economist, CBRE Hotels' Americas Research | October 10, 2021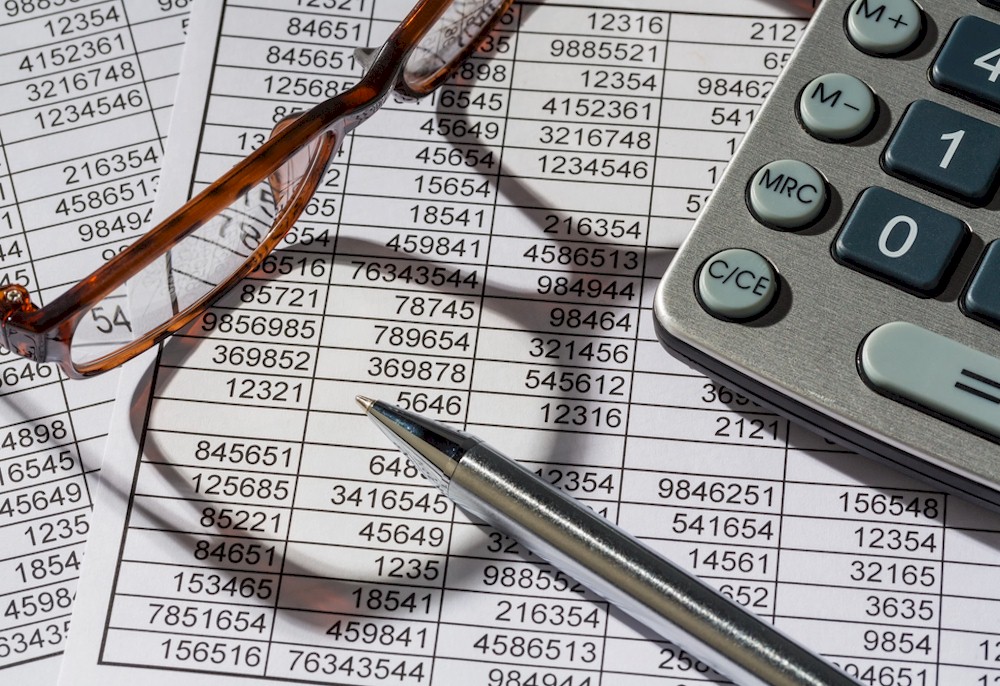 The negative relationship, or trade-off, between ADR and occupancy is central to revenue manager's decision under normal operating conditions. In times of growth and prosperity, ADR is raised to increase revenue while lowering occupancies from potentially unsustainable levels.
Conversely, economic downturns often lead to deep discounting in an attempt to inspire additional travelers. The recent severe downturn in the hotel market set off by the social distancing measures and fear of travel subsequent the Covid-19 crisis may represent something of an exception to this usual relationship.
Although the current crisis is somewhat related to the economic conditions that have evolved through it, the change in hotel performance is much more attributable to non-economic factors. GDP has recovered to pre-pandemic levels, unemployment is nearly recovered, and incomes accelerated as transfer payments and relief measures to prevent job market unwinding were put into place.
At the same time, national US RevPAR is still nearly a third below 2019 levels. The greater part of this RevPAR shortfall is due to dramatically lower occupancy than 2019. Although ADR has also fallen, cuts proportionate to past downturns used to mitigate the occupancy losses have not materialized, and in the most recent quarter ADR has risen significantly above expectations.
The current theory at CBRE is that discounts used in past downturns are not effective in the Covid era as the primary demand detractors are non-economic i.e., fear of travelling and social distancing requirements. A few dollars difference in rate will not convince a traveler that believes their life may be threatened, and attractive rates cannot sway a conference planner if conferences have been canceled. On the other hand, for destinations that can provide a safe environment, no discounts are needed to attract travel-starved guests.
Several observable implications of this theory provide evidence. If demand is returning not in response to rate but rather the capacity to safely accommodate demand, the relationship of ADR to occupancy will not be negative but positive. In addition, ADR should be somewhat stronger than the historical relationship of occupancy and rate given the greatly reduced occupancy but less discounting. Lastly, locations that have been able attract demand from leisure travelers should have stronger ADR recoveries, as these segments are returning more quickly than business.
Rate Declines Stem from Missing Demand
The lack of power that discounts currently have to lure back travelers means that the savvy revenue manager should be able to raise rates as higher-paying guests return to travel, either as vaccines roll out, weather encourages more outdoor activity or local infection rates lower. Quite different from previous downturns, where lowered rates allowed for occupancy recovery, the ADR recovery in 2021 should have a positive relationship with occupancy.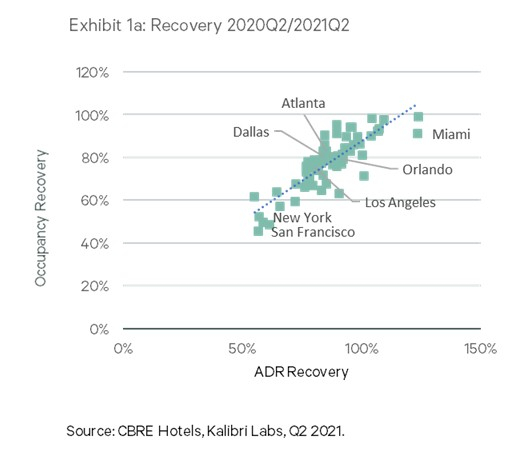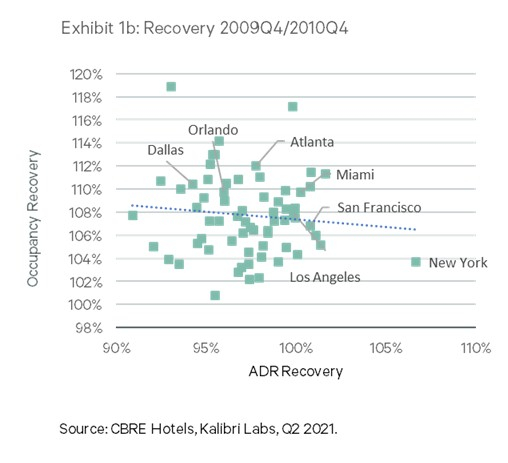 Exhibits 1a and 1b detail the percentage of occupancy and ADR a year after the peak of a downturn was felt for all hotels in the 65 major metro market CBRE Hotels tracks most closely. Figure a. illustrates the proportion of occupancy and ADR regained from Q4 2009, the height of the Great Recession's effect on hotel performance, to a Q4 2010. The relationship is chaotic, although a slight downward trend can be extracted. Occupancy, historically the first to recover in hotel downturns, is approximately 11 percentage points higher in its recovery than ADR.
Turning to the recent Covid-19 crisis, a distinct positive trend can easily be identified by visual inspection. Not only is rate returning concurrent with occupancy, but ADR recovery is about 9 percentage points ahead of occupancy, the reverse of the recovery from 2009-2010.
Comparison of Current to Previous Downturns
CBRE maintains a large collection of historical profit and loss statements that can be used to compare the current crisis to several past hotel downturns using an aggregate figure of reporting hotels. Occupancy and ADR in 2020 dollars is presented in Exhibit 2 from 1985 to 2020 on a full year basis. The 1990-1992, 2001-2003 and 2008-2009 recessions are highlighted.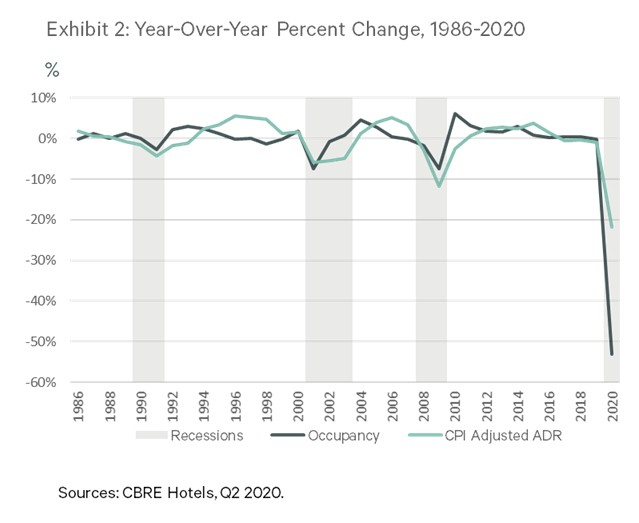 The pattern of recovery through the previous three downturns is generally consistent. Occupancy and ADR fall swiftly at the onset of the downturn. ADR falls farther than occupancy in 1990 and 2009, but slightly less than occupancy in 2001. However, ADR continues to decline significantly in 2002 and 2003 while occupancy quickly stabilizes then begins recovering. In each previous downturn, there is a lag period of three to four quarters after occupancy begins recovery for ADR to follow suit.
Turning to the 2020 downturn, the scale of the downturn is far larger than in any previous cycle. Moreover, the relationship on an aggregate level is reversed as well. ADR falls slightly more than 20% while occupancy falls more than 50%, a much larger percentage drop. To maintain a similar historical pattern to previous cycles, ADR would need to drop farther in the years after 2020 while occupancy stabilized. Fortunately, as I will explicate in the following section, ADR recovery is accelerating rather than worsening.
Simulation Exercise to Typify ADR
A visual inspection of the aggregate Trends® data is sufficient to see that the pattern of the occupancy and ADR declines are the reverse of historical performance during a downturn. However, economic conditions during the Covid-19 crisis also have been singular. In addition, evidence of recovery trends so far is needed to demonstrate that the current crisis will not unfold like an exaggerated version of the 2001 downturn, where lagging ADR declines proportionately lowered ADR well below occupancy.
To quantify the difference in expected performance and actual ADR change during the recent downturn controlling for differing economic variables, I examined performance data on hotels from Kalibri Labs (KL) The KL data extends back through 2015 for the nation as a whole and for various location types. Performance data prior to this is inferred by fitting estimated relationships between KL national data and CBRE Hotels Trends® data.
By estimating the expected ADR change as a function of occupancy change under given conditions and comparing it to what was actually observed, I am able to draw some conclusions about the nature of price-setting during the crisis. In particular, the variables I control for when estimating the effect on ADR are real personal income and total employment, which are historical data from the Bureau of Labor Statistics. ADR is converted from nominal to real using CPI for the purposes of this model but is presented as nominal. All variables are estimated in changes to correct for econometric problems.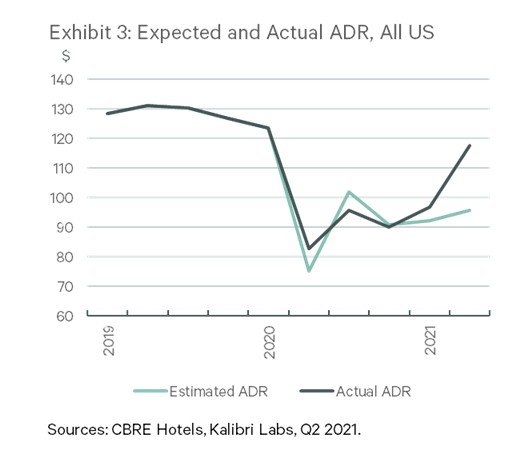 The results of this experiment are described in Exhibit 2. The initial downward movement in ADR is about $7 smaller than expected, given the drop in employment, income, and occupancy. On the other hand, the strong rebound in economic data and the lifting of occupancy in Q3 2020 produced an ADR gain $7 less than expected. In Q4 price changes little but begins rising sharply in excess of the expected value after Q1 2021 and the advent of vaccinations.
The lessened volatility compared to expectation in 2020 can be explained by the consistent absence of higher-ADR travelers in the business and discretionary travel segments combined with small or negligible discounting for the remainder of guests not as affected by social distancing requirements. This leads to much faster than expected recovery in ADR when some of these restrictions are lifted as a result of the vaccine, in Q1 and Q2 2021, compared to previous downturns where robust occupancy recovery needed to be accomplished before the restoration of rate.
Looking at location categories can provide some additional detail to this hypothesis. Exhibit 4 illustrates the expected and actual rate recovery for three location types: resort destination, urban, and small town.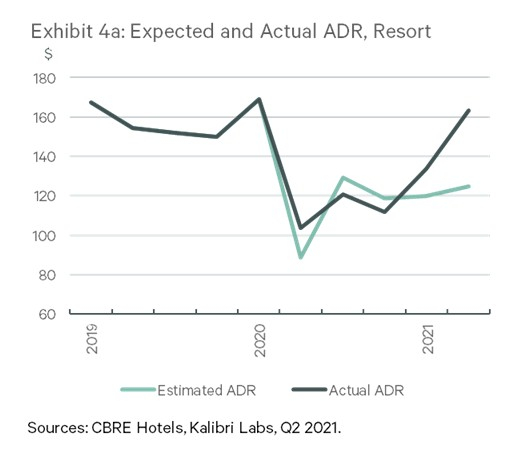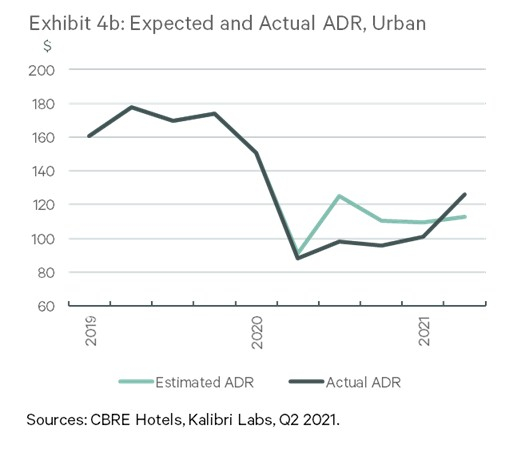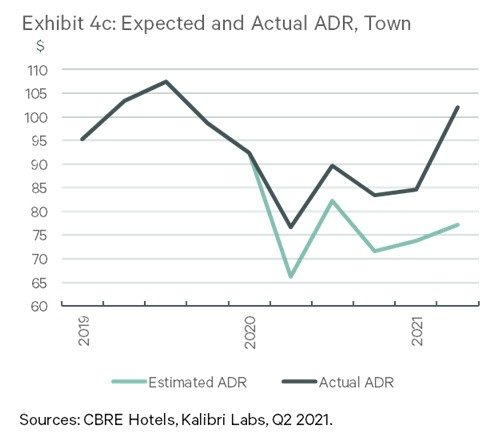 Resort location hotels underperform in Q3 and Q4 2020, but have the strongest recovery in 2021 as leisure travelers have the greatest flexibility to respond to vaccination rates and loosened social distancing requirements. ADR levels in Q2 2021 exceeded 2019 Q2 levels, signaling a complete recovery in rate for this location well in advance of occupancy. Urban location hotels, which depend more strongly on business travel, have seen their rates stubbornly unresponsive and consistently low since the beginning of the crisis.
The recovery in 2021 has also been weaker as business traveling budgets and plans, made well in advance of leisure plans, are slower to respond to lessening of travel restrictions. Lastly, town hotels, which historically have attracted fewer business travelers, groups or high-end leisure travelers have consistently outperformed rate expectations. Although town hotels may have attracted some additional leisure travelers diverted from more densely populated destinations, they have not recovered as strongly as resort hotels in the past two quarters, suggesting the capacity to accommodate this kind of traveler is limited.
Future Considerations for the Revenue Manager
Guest occupancy depends on the guests' ability and willingness to travel. Past hotel market downturns resulted from economic dislocations so jarring and long-lasting that guests' ability to travel was hampered. In the recent crisis, economic ability to travel is robust and in with respect to savings and debt loads may even be stronger than usual. Fear of travel affecting willingness for specific types of travelers, notably high-end leisure and business travelers, are the prime determinants of rate shortfalls in the current crisis.
Hotels that focus on being able to safely accommodate these guests should be able to see quick and strong rate recovery. Contrary to past recessions and downturns, this rate recovery is demonstrably possible well before occupancy recovery. With labor shortages being among chief concerns of today's operators, revenue management may find an effective strategy on longer-term planning for lower occupancy and higher rates.
HotelExecutive retains the copyright to the articles published in the Hotel Business Review. Articles cannot be republished without prior written consent by HotelExecutive.