Hotel Design Trends: Embracing New Spaces and Designs for Lodging
By Robert O'Halloran Professor & Director, Hospitality Management, East Carolina University | November 2022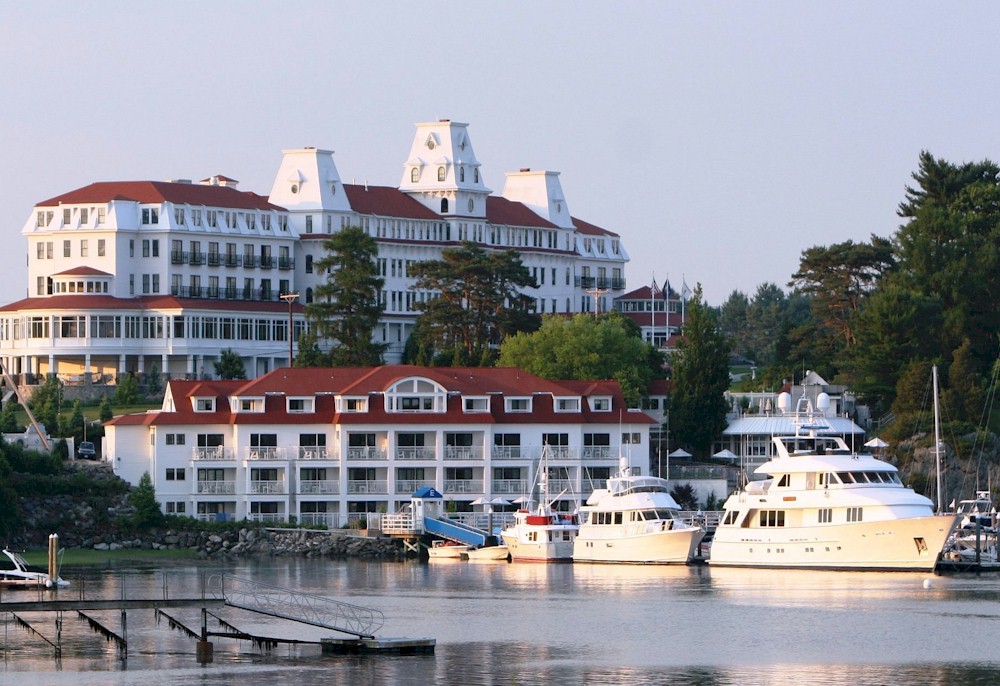 The definition of hospitality has a new meaning – one of comfort, security, and escape.
Hotel operations are linked to design and construction and integrate a new heightened concern for safety, sanitation, sustainability, and technology.
The hotel design field also examines the meshing of design with green, sustainability, technology, LEED Certification, and solar power options. Sustainability also plays a role in how a hotel property incorporates existing design elements in their renovation or new design: some hotels, for instance, are taking historic sites and blending vintage architectural elements with modern amenities. More specifically, guest rooms and public spaces such as lobbies, restaurants and meeting rooms are all being re-thought and redesigned. 
This author loves a great old hotel. Growing up in New England some of my favorites included, The Parker House and the Copley Plaza in Boston, Wentworth By the Sea  and the Mt. Washington Hotel in New Hampshire and more. There are classic properties across the country and the globe and part of their appeal for me is their environment, and the atmosphere that was created in these unique and historical spaces. Many of these historic structures have a long history, and a great story to tell, plus a local and personal feel, and a reputation that relates to service and value.
Scattered across the country one can think of other great historic hotels; the Breakers in West Palm Beach, the Brown Palace in Denver, The Peabody in Memphis, the Greenbrier in White Sulphur Springs, the Del Coronado, in Coronado, the Waldorf Astoria in New York, the Grove Park in Asheville, the Broadmoor in Colorado Springs, the old Canadian Pacific hotels (now Fairmont) across the Trans Canada Railway (Ex. the York, The Chateau Frontenac), and many more. These properties are unique and have individual personalities in the hotel and resort scene.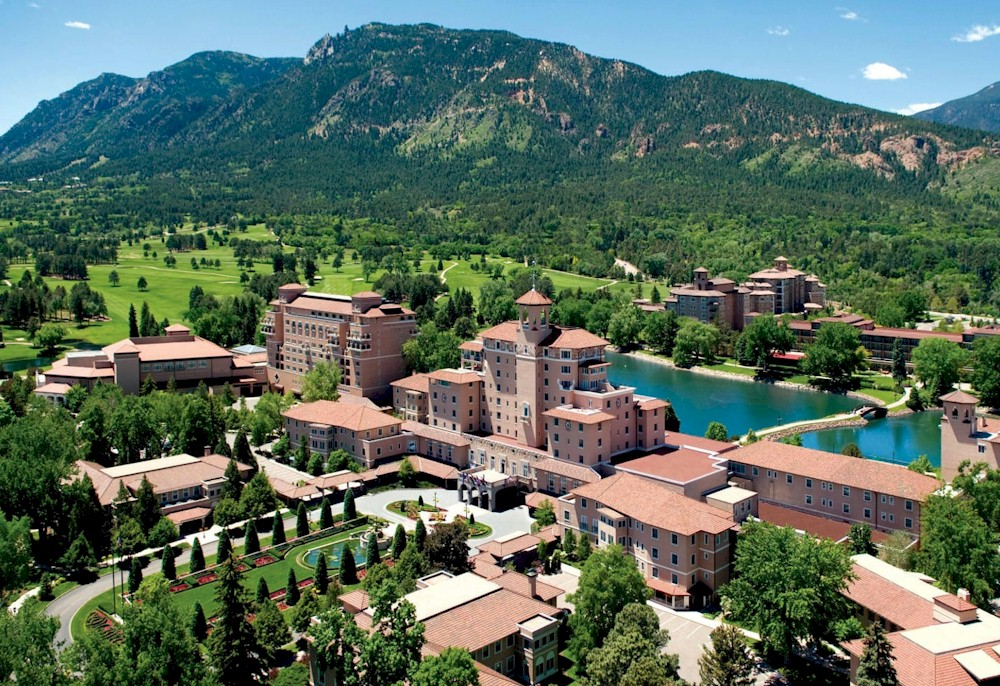 The Broadmoor, Colorado Springs, CO
Some of these properties are now part of large hotel chains/groups and others remain independent. Like any historic building, these properties need to be cared for, renovated, remodeled and perhaps in part, redesigned. The qualities that these properties offer mesh with some of the current trends and goals hotel design firms are embracing and presenting to their clients. For example, Alt Design and Construction (2022) shared their five design goals below.
Tell a Story: Historic and grand hotels all have a great story and the best of these know how to share that story.
Reflect the Location and External Elements: Historic hotels have been in place for some time and their external visuals and elements, mesh well with their locations and their environments.
Make Great First Impression: A well-kept and operated hotel makes a great impression. They are often signature properties in a community.
Pay Attention to the Guest Rooms Design: Guest rooms in historic hotels have often been an issue due to size of the room versus more modern properties. In this situation the hotels are often selling the experience and working on Preservation and Conversation and perhaps their place on the National Historic Register. Long term maintenance of these facilities is likely to involve renovations and remodeling within historic guidelines.
Design Common Areas for Experiences: Public spaces and common areas have changed their function over time. For example, The Brown Palace Hotel in Denver, traditionally displayed the prize Bull from the National Western Stock Show in its lobby. I don't think that happens much anymore, but that has become part of its legend. The Peabody has had a summer Roof Top Parties for years, complete with bars, food  and entertainment with great view of Memphis and the Mississippi Rivers. Additionally,  lobby spaces in these properties have become revenue centers, for bars and lounges, high tea etc., utilize making the space for guest experiences.  
Hotel developers are not likely to build a new Greenbrier or new Breakers but the goals and theme examples from these classic buildings can be useful for the creative planning, renovation, and development of lodging properties. When building or redesigning a hotel, it is important to create a unique concept, which shapes the identity of the hotel and guest experience.
Make sure that the forms, materials, and functionality of different spaces throughout the hotel reflect your concept and design inspiration, as well as tell your story. In your hotel concept, consider things like:
The hotel's architecture and design concept.
Hotel's facilities, such as wellness facilities or restaurant and food branding.
The Signature Experiences that the hotel offers to its guests.
Operational procedures, which should align with the main idea.
Hotel branding and communication strategies.
Moving forward, what are the design trends currently and how will operators integrate these design trends into their properties?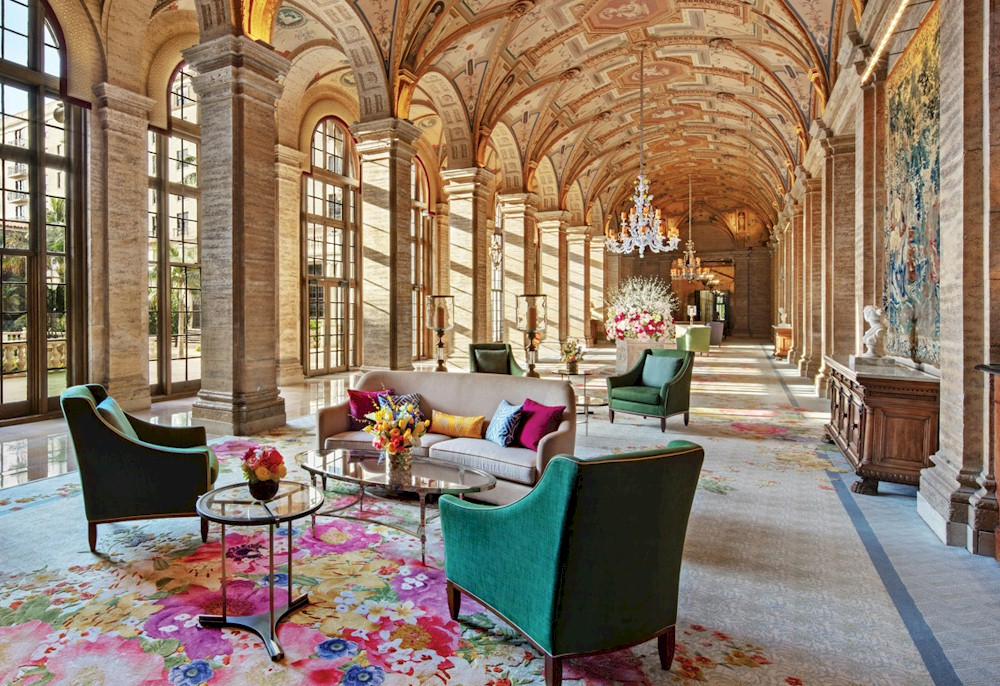 The Breakers in Palm Beach, Florida
Trends: Looking Forward
Flexibility also became paramount for hotels and creating a less-defined program – such as multi-purpose public space and re-imagined spaces for F&B, lounge, and lobby – will continue to be advantageous in the future. Over-archingly, creating opportunities for people to decompress in urban environments, enhancing physical, mental, emotional, spiritual, and social wellness, and quenching a thirst for the outdoors will be key drivers for architects and designers.  
Hotel designs are also be linked to a hotel's target market segments. The layout and design of a hotel can be planned differently for leisure, group markets, business, and other segments. Some trends for hotels and the segments they serve include home office options, decorating a hotel room as a full-fledged home space, promising maximum comfort and serenity but not devoid of novelty. These options could include layout and zoning reminiscent of studios or full-fledged apartments; using a warm palette and expressive decor; and superbly equipped bathrooms and kitchens, cozy bedrooms, and living rooms with extraordinary decor.
Additionally, the concept of what the industry is calling "bleisure" travel, that is extending vacations that blend work, exploration, and leisure. Those who visit a city or hotel on business issues are increasingly extending their business trips to devote time to getting to know the locality and local traditions. Design that is experiential and deepens connections to the location and its underlying character will be key. Additionally, new and or alternative travel experiences, which can include options such as treehouses, and glamping (glamorous camping) has become part of resort options.
Resort and urban locations also include more and more outdoor options. Therefore, landscaping and design of outdoor patios and meeting spaces are now integrated into hotel designs. In urban design settings, more roof top spaces, inclusive of dining and bar spaces and group settings are a design standard. Additionally, the design of urban hotel settings as urban resorts is more prevalent. Design efforts will also include new food and beverage offerings and spaces.
Other design features include, health and energy-saving technologies, high-quality finishing materials, natural if possible, including certified products that meet all eco-standards. Natural wood and large-format porcelain stoneware are in trend today more than ever. Finally, eco decor that includes, green plants used to decorate the walls in the lobby with greenery and moss.   Additionally, in new hotels on the same floor, there may be rooms in the style of classic, modern, art deco, and minimalism. Currently, hotel interior design is often including, art galleries and other displays of local artists and crafts.
5-Star Glamping atKeemala Hotel in Kamala, Thailand
Specifically, hotel designers are drilling down on new design ideas for guest rooms, including technology, lighting options, sound proofing, plus bathroom options, including crafted tiles, spa like tubs, multiple fixture options, plumbing options and more. Some of the actions run the gambit from, the use of natural and recyclable building materials, to the implementation of solar panels and an efficient linen recycling. Hotels today also incorporate more live greenery, natural and LED lighting into their designs to reduce energy consumption and carbon footprints.  Additionally, Lavinia (2022) noted more trends in design, listing:
Lobbies envisioned as dynamic multi-use spaces.
Rethinking Guestroom Configurations.
Spa-Like Bathroom Features.
Not Just a Restaurant, But a Destination in Itself.
Blurring Indoor-Outdoor Boundaries.
Green Features.
Focus on Local Art.
Technology Overload.
Less Pattern, More Color and Texture.
Personalized Spaces.
A Home Away From Home.
Hotels are also examining how they can bring health, fitness, and well-being to guest experiences. Hotel properties around the world now strive to enhance the physical and mental health of their guests through design and amenity options. More hotels will be adding and upgrading gyms, health spas, retreat areas, air and water purification systems, in-room exercise equipment and spaces to accommodate the preferences of health-conscious guests.
Hotel design involves the planning, drafting, design and development of hotels. The concept of hotel design is rooted in traditions of hospitality to travelers dating back to ancient times, and the development of many diverse types of hotels has occurred in many cultures.
Hotel design needs to incorporate effective planning and design, make the design financially viable for the hotel and successfully work through the development process inclusive of hotel types, marketing concepts, branding practices. The focus for operators will be on planning decisions, and the relationships of marketing requirements to functional areas, and the use of planning metrics. Then specifically, the focus then turns to design considerations for guestrooms, public spaces, and "back-of-house" areas. Robson also noted 5 Hotel Design Ideas to Differentiate Rooms and Delight Guests:
Give rooms a sense of place.
Provide guests with the pleasing experience of being in the presence of nature.
Simplify amenities and limit cumbersome furniture.
Reduce the carbon footprint.
Embrace diversity.
Contemporary hotel design can be sophisticated and functional, involving specialist architects and designers, environmental and structural engineers, interior designers and skilled contractors and suppliers, particularly for large, intricate projects. Hotel design can involve the refurbishment of an existing building already used for lodging, the conversion of a building previously used for another purpose or the construction of new buildings. Designs should also be aware of local cultural influences and specific geographic location.
Hotels are consistently being updated to maintain the health of the building. Maintenance updates are also inclusive of  more eco-friendly, and sustainable trends. During a remodel or renovation, work is also focused on the interior of the hotel like furniture, maintenance, and layout, furniture, fixtures, and equipment (FFE) needs replacement on a regular schedule. Hotel exteriors such as roofing need to be considered in planning updates and planning efforts need to recognize that each year the amount of money put in these updates is increasing. Finally, for guest amenities and facilities, the addition of weight rooms, arcades, or business rooms with computers etc., are being added to design plans.
Finally, Nathan (2021), noted additional trends to be watched for 2022 that included:
Reducing the Impact of Black Screens.
Bringing The Outside In and the Inside Out.
Finding The Perfect Light.
A Focus On Wellness.
Enhancing The Experience.
Hotel-Design and Educational Learning Opportunities
Finally, hotel design education and training can be examined from the standpoint that managers of hospitality products and services should be aware of the role of design in the creation, development, and successful operation of hospitality experiences. Hotel design syllabi can emphasize that design plays a role in creating the hospitality experience.
Hospitality education programs often include a facilities and design course and or a straight-forward architecture course as an elective. Hospitality programs do not traditionally have a career path to being an architect but focus and relate design concepts as part of creating a great guest experience which can be connected through marketing, room and food and beverage operations and guest service experiences. A hospitality experience is comprised of many different aspects, from the physical space of a building through to the service encounter and features and products that are used to create atmosphere and mood.
Examining skill sets for hospitality managers one can argue that creativity and innovation in those roles can be related to some hotel design skills. Our students, in general tend be innovative and often think outside the box for meeting and events, food and beverage etc. What might be useful for university hospitality business programs would be the integration efforts in their curriculums with other units on a campus that might include, Interior Design, Architecture programs, Spa and Wellness programs, Construction Management and Engineering and perhaps more.
Summary
In summary, a quote from Buer (2022) notes that the challenge for hotel design is the holistic consideration of design and functionality as the factor for return on investment on the life cycle of a hotel property. Shortages of raw materials, labor costs and supply chain bottlenecks will continue to accelerate changes in hotel design. In the future, successful and contemporary hotel design must fulfill and implement the requirements of sustainable design and ESG (Environmental, Social and Governance) in order to be able to make a positive contribution to the ROI.
Additional resources are also provided below, including links for unique spaces and historic hotels that can be benchmarked for ideas and design innovation efforts and best practices for hotel design and planning.  
Main Image: Wentworth by the Sea
Additional Resources
Hollander, J. (2022). 100 Hotel Trends You Need to Watch in 2022 & Beyond,   August 18.
Hotel Tech Report (2022). The 30 Hottest Hotel Designs of 2022, January 26, 2022.
Itzkowitz, L. (2021). 5 Most Anticipated High Design Hotel Openings of 2022, From Tel Aviv to the Turks & Caicos, these are the spots to look out for in the New Year, December 23, 2021, Architectural Digest.
Historic Hotel Sites:
HotelExecutive retains the copyright to the articles published in the Hotel Business Review. Articles cannot be republished without prior written consent by HotelExecutive.