Bringing Together People, Cuisine and Culture Through Design
By Peter Wright General Manager, Hotel Haya | November 2022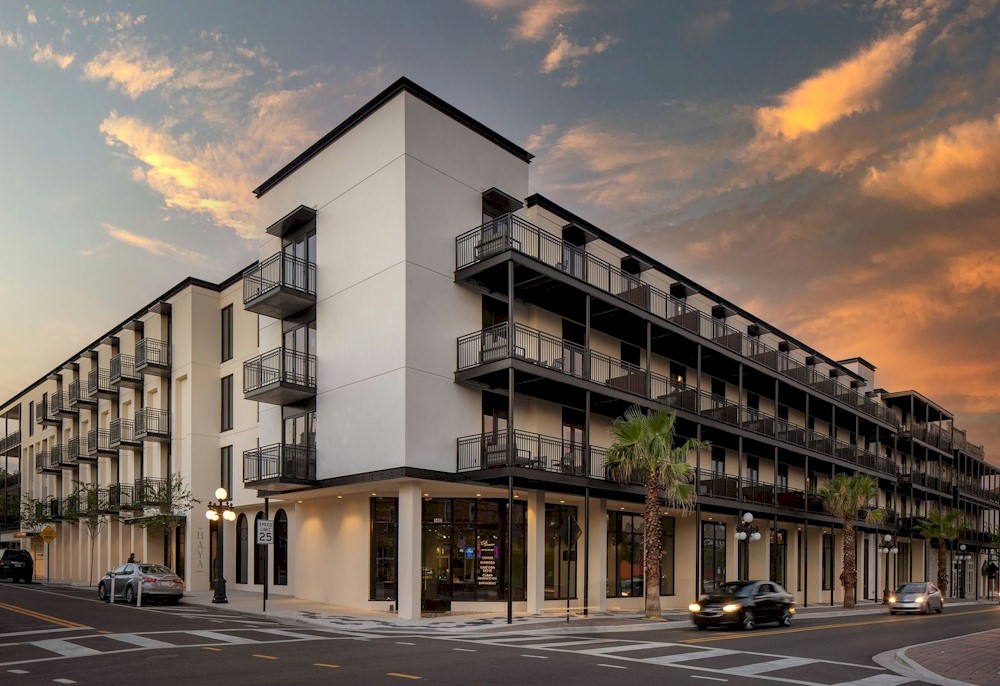 After the isolation of the pandemic, people are ready to come together in public spaces once again.
The public's desire for a social atmosphere gives hotels the perfect opportunity to go beyond the typical lodging identity and create a hub for the community, where local residents and visitors can gather to collaborate, relax and celebrate in a vibrant, inviting environment.
Having an open-concept design allows guests to embrace the many unique elements a hotel has to offer and move fluidly from one room to another. Whether a visitor is there for check-in or stopping in to enjoy a meal, all guests immediately feel welcomed into the hotel upon entering rather than isolated to one area.
Hotel Haya is dedicated to blending community, cuisine and culture through an open-concept experience. As guests enter Hotel Haya, they are welcomed into not just a lobby, but a lively community space inspired by Tampa's unique spirit and history. From fine dining to a cozy corner coffee shop, visitors are encouraged to explore the multi-faceted space and all it's offerings, connect with others, and immerse themselves in the soulful, historic atmosphere. For Tampa residents, the property's design offers deep connection to the area through it's period fabrics, "mid-century Cuban" decor and contemporary and classic art, including four large reproduced paintings from Francisco Goya, one of the most influential Spanish artists of the 18th and 19th centuries.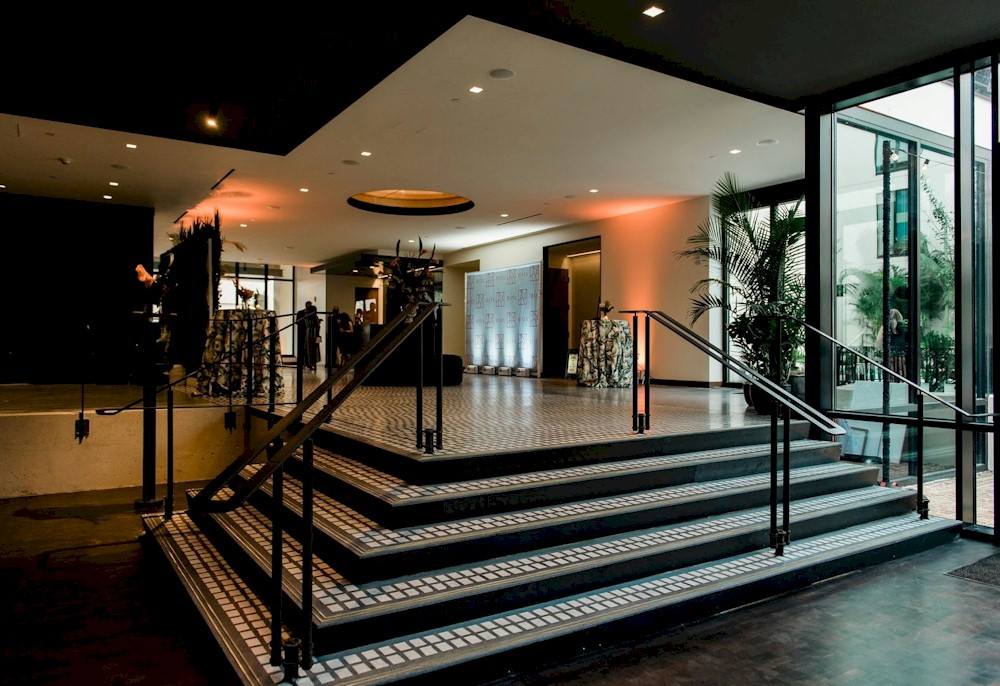 Hotel Haya's lobby serves an open space to welcome visitors.
The Importance of the Lobby
In any hotel, the lobby is the central hub. This area is what a guest sees first when they enter and what they last see before they leave. From the lobby's layout to the small fixtures and details included in the lobby design, it is crucial for this space to give a lasting impression of the hotel and its purpose from the moment a guest walks in.
At Hotel Haya, the spacious lobby is the main port to the rest of the hotel. As guests enter, they will not only see where they check-in for their stay, but the hotel's dining options and courtyard area as well. The purpose of this design is to showcase notable components of the hotel right away, providing a quick preview of the unique offerings for guests, and inviting them to explore further. From the large windows looking out into the tropical courtyard to the short set of steps leading into the dining area, Hotel Haya visitors are able to weave seamlessly throughout the many areas near the lobby, and do not have to go far to feel welcomed or experience something new.
The lobby itself is designed to welcome guests immediately, featuring warm tones of brown and gold that are delicately used to immerse guests in a comforting environment. In front of the check-in desk, a circular seating bench is placed for guests to have a seat and take a look around the hotel's interior, or view the creative collaborations on display from local artists, artisans and businesses in the area.
As guests become familiar with the hotel and its surroundings upon their first step inside, they can immediately begin to feel welcomed and prompted to explore the rest of the space.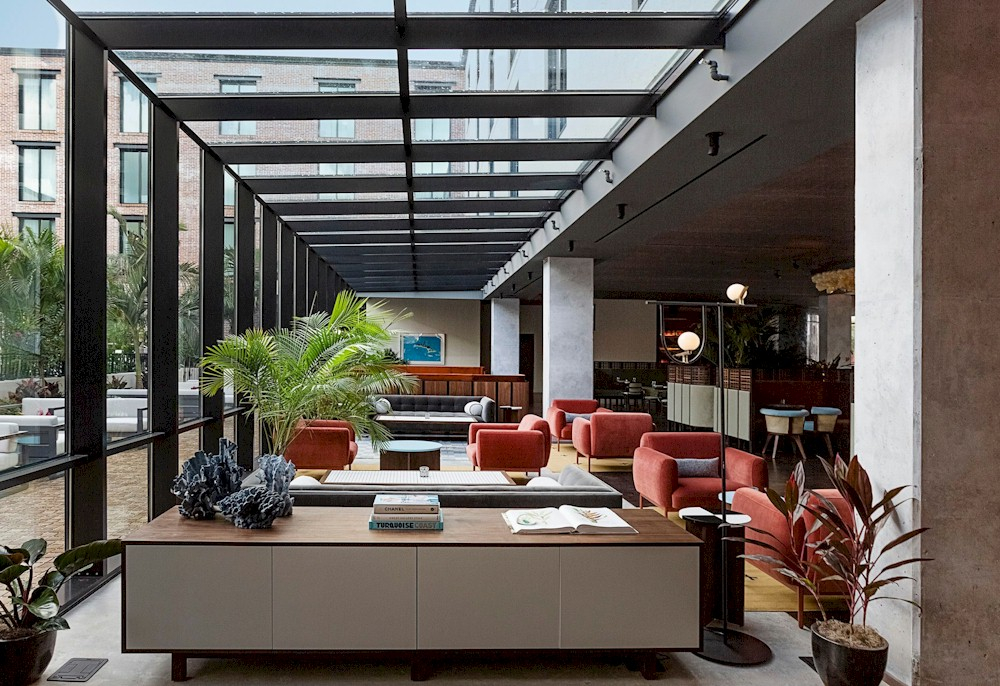 Lounge areas and dining spaces come together for an open concept.
Dining Experience
Dining adds a fresh element to a hotel experience, and plays an important role in creating community and bringing people together. Offering a fine dining experience or a small community cafe encourages both hotel guests and locals to experience the hotel through it's diverse culinary offerings. In an open concept design, those who visit the restaurant are also able to experience the excitement of the hotel, and may feel inspired to come back for other occasions.
At Hotel Haya, as guests move from the lobby further into the hotel, they can choose to enter the fine dining area or the cozy coffee shop. From the lobby, visitors are able to smell the delicious culinary creations as guests mingle over a Cuban coffee or handcrafted cocktail.
By utilizing an open concept in our design, we are able to reveal a warm, inviting setting and array of flavorful food and beverage options to all guests who walk through our doors. This invites guests further into the restaurant and to sit down to enjoy a meal or a drink.
Hotel Haya's anchor restaurant, Flor Fina, is located adjacent with the lobby in an expansive, artistically designed space. The restaurant includes a bar and lounge area with plenty of seating inviting guests to stay and chat with others.
Both the lobby and Flor Fina connect to Cafe Quiquiriqui, a neighborhood coffee shop that offers Cuban classics for both guests and community members. This cafe is easily accessible from 7th avenue and perfect for visitors looking to relax in the mornings, work remotely or grab a quick bite before heading out for the day. The cafe also allows outside visitors to see into the hotel and enjoy the experience, even if they are just coming by for a quick stop. 
Cafe Quiquiriqui and Flor Fina are inspired by Tampa's diverse mix of Cuban and Spanish heritage. Through curated culinary offerings and local ingredients, guests become immersed in Tampa's exuberant cultural fabric. Whether guests stop by for a quick coffee or a large group dinner celebration, they can see how Hotel Haya carefully captures the city's distinct roots in each dish.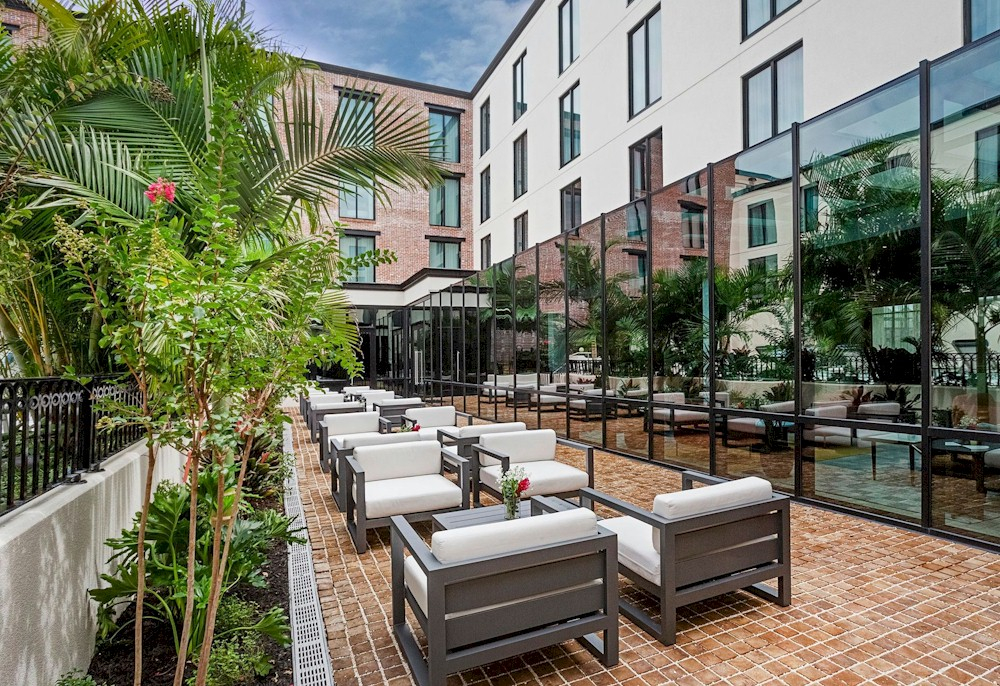 Hotel Haya's courtyard serves an oasis from the city.
The Courtyard
A hotel courtyard is an excellent way to allow guests to relax and grab a breath of fresh air, all while staying connected with the hotel's design. Hotels can play into an exterior open concept to create a multi-use outdoor space to bring people together outdoors.
At Hotel Haya, the courtyard space doubles as a pool area in the center of the hotel. With brick on all sides of this exterior space, guests are blocked from the hustle and bustle of the city and the famed 7th avenue, transporting them directly to a tropical oasis.
The lush greenery of the outdoor space can be seen from the floor to ceiling windows of the lounge, seamlessly bringing the interior and exterior together. Similarly, to the indoor lounge and bar area, the outdoor courtyard allows guests to congregate and enjoy each other's company while sipping on a cocktail or enjoying the sunshine.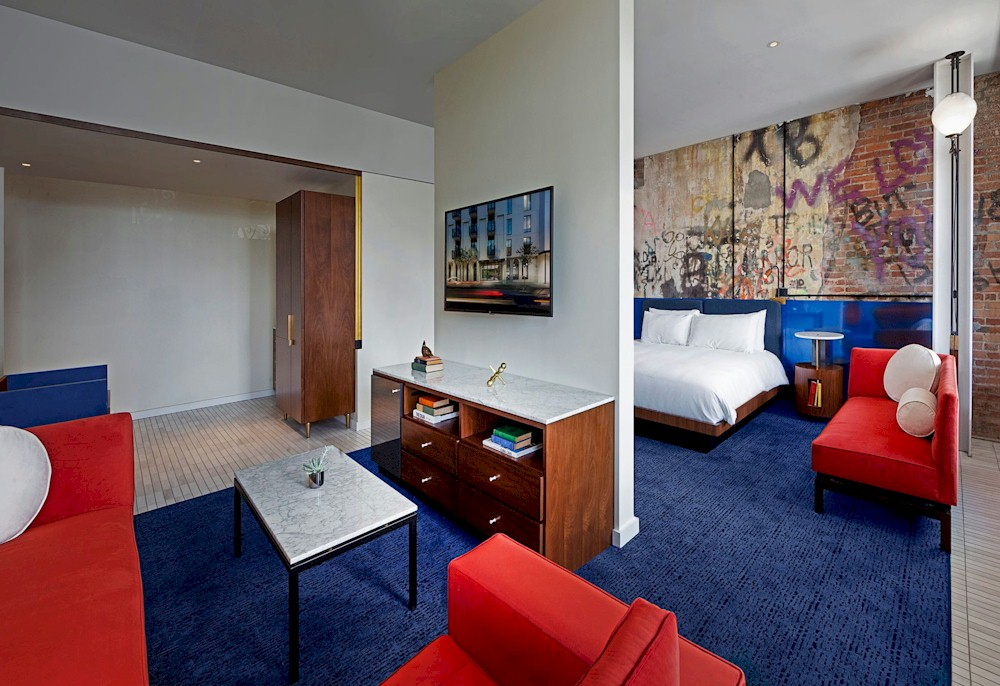 The guest rooms use design to connect guests to Tampa's culture.
Guest Rooms
Although a more private setting, guest rooms are where most guests will spend a majority of their stay, and there is an excellent opportunity to incorporate unique design components in hotel guest rooms. This can be done with the structure of the room and color palettes.
Alfonso Architects Incorporated, founded by Cuban born brothers Albert and Carlos Alfonso, are responsible for the hotel's distinct design, which was crafted specifically to immerse guests in the culture of Haya and the surrounding neighborhood. The property fuses two historic buildings with contemporary construction, including Tampa's oldest restaurant which was originally built in the 1890s. Upon beginning the remodeling for Hotel Haya, Alfonso Architects Incorporated chose to keep some of the original brick of the building covered in graffiti. This original brick can now be seen in guest rooms, such as the room deemed the "Graffiti Suite."
Not only does some of the original building remain in the guest rooms, but each room is rich with character and designed with warm palettes of blue, gold, red and brown. These colors are used to welcome guests and allow them to become immersed in mid-century Cuba, where the hotel's roots lie. While the lobby area connects guests with the community through an open-concept, guest rooms connect guests to the community through history.
Moving Forward
A hotel's purpose goes far beyond providing guests a place to stay when traveling. . Whether a guest is staying for a one night, several weeks or simply stopping in for a meal, a hotel should make a guests feel at home and welcome while traveling and act as a space that brings people together. In addition to offering world-class service and authentic hospitality,  another crucial factor that influences a guest's experience is design. With an interior designed to create a community, guests are more likely to think of a hotel as a social setting, and a gathering place that they truly enjoy visiting.
As Hotel Haya continues to grow and serves to more guests, our team hopes we can continue to give a lasting impression as a place where design and community meet in one of Tampa's most distinctive and historic neighborhoods. We will continue to use the space that we have intricately created to bring people together.  
HotelExecutive retains the copyright to the articles published in the Hotel Business Review. Articles cannot be republished without prior written consent by HotelExecutive.