How Hotel Design Can Create a More Memorable Stay
A Sense of Place
By Brian Obie Founder, Obie Hospitality | November 19, 2017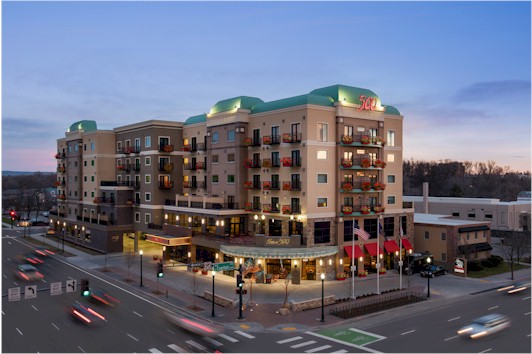 A hotelís design plays a major role in making a traveler feel welcome to their destination. Itís important that the buildingís exterior communicate that straight away. I like to see balconies and terraces with large flower pots and sunny umbrellasÖ something with personality thatís inviting and a little different. Itís crucial to me to convey a sense of uniqueness in this age of sterile, square roof lines that dominate many of our cities. From the exterior outset, I want something that makes a guest say ďOh, I hope I have one of those rooms; Iíd like to experience that.Ē It sets people up for an expectation of a great and memorable stay.
Along with a memorable exterior, we try to bring the destination inside the walls of the hotel in a variety of ways, including using local art and artists, designing themed rooms that celebrate the local culture and uniqueness of the region, as well as positioning windows throughout the property that constantly encourage our guests to look outside and be reminded of exactly where they are.
We design our hotels with the expected modern comforts (double sinks and large showers and of course great bed linens), but we also want something that goes a little above and beyond the usual to make for a better stay, like improving upon the ice machine or making business centers a place you actually want to hang out. People love to be treated to something more than they expect.
Iíve had a lifetime of travels and time away from home, so thatís why I appreciate it so much when thereís a differentiation that you donít find very often in a hotel, especially one that helps you remember your trip. You feel taken care of and as though the hotel cares about you as a guest, which means you want to go back and see them again.
Themed Rooms and Memorable Guest Rooms
We have a large selection of themed rooms, which most of our guests seem to enjoy. For example, at our hotel in Boise, we highlight the Basque heritage of the region (and nearby Basque Block) with themed rooms that tell this story and offer specifics for guests wanting to learn more. It goes beyond fun and whimsical design elements to an actual educational experience. Similarly, our Boise Art Museum rooms were curated by museum staff to present meaningful works and convey a mini museum experience within the guest room, directing guests further to the nearby museum itself, which is a fantastic resource.
Please Login to read the full story, or you can Get Free 30-Days Hotel Business Review
The Hotel Business Review articles are free to read on a weekly basis, but you must purchase a subscription to access
our library archives. We have more than 5000 best practice articles on hotel management and operations, so our
knowledge bank is an excellent investment! Subscribe today and access the articles in our archives.