Coronavirus and the Bottom-Line Effects of Service Changes in Upper-Priced Hotels
By Bram Gallagher Economist, CBRE Hotels' Americas Research | October 18, 2020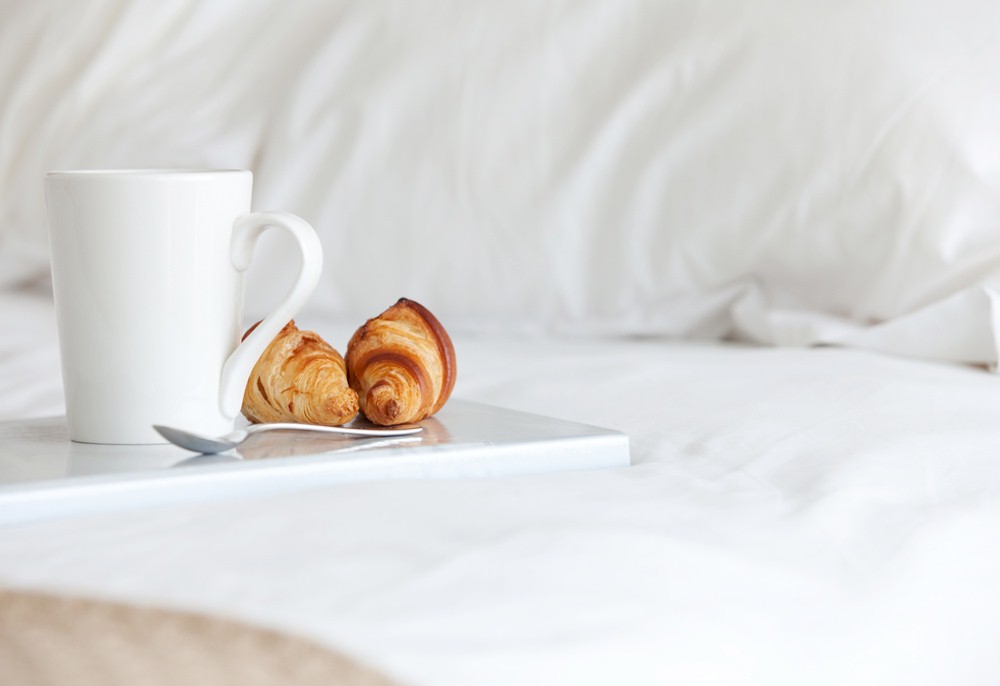 The "select service" phenomenon of hotels offering a combination of upscale accommodations without dining, and a general shift away from food and beverage(F&B) as a share of total revenue, has been a long-standing trend in middle-priced hotels.
Accelerated by a previous major crisis, the Great Recession of 2007-2009, F&B quickly retreated as a proportion of total revenue for hotels in the middle-tier and stayed low. Further, new middle-priced hotels that entered the market had similarly low ratios of F&B. The upper-priced hotels, although showing a slight diminishment of F&B during the Great Recession but propelled by recovery in existing properties and new properties with strong F&B, regained its previous levels shortly thereafter.
1. Motivation
The ongoing COVID-19 crisis presents different problems to the lodging market than previous downturns by creating several stresses. Severe losses to occupancy have been created by fear of travel, social distancing protocols and, to a more limited extent, the economic damage created by the outbreak. The combined effects have created the most severe disruption to the lodging industry in recent history, with different segments affected to varying degrees. While all segments of the lodging industry have undergone drastic contractions, the upper tier hotels experienced the most severe percentage reductions in both occupancy and rate, and, with some exceptions, are expected to recover the most slowly as well.
The second quarter of 2020 produced negative incomes for many hotels as ongoing fixed costs in operational departments accrued without compensating business activity and concomitant revenue. The resulting negative cash flow over time has been referred to as the "burn rate" by some managers. Could this burn rate be reduced or slowed by eliminating the food and beverage department and thus its fixed costs, or will the slow restart of a closed department create a net loss for the overly cautious manager?
Given the continued difficulty upper-priced hotels are anticipating, I propose a hypothetical model of profitability effects of changes similar to those seen in middle-price hotels, i.e. moving revenue focus away from food and beverage. In this model I will consider a model aggregated from recent profit and loss statements from hotels in the upper upscale chain scale as defined by Kalibri Labs in the Boston central business district. A single metro was chosen so that the aggregate better reflects the actual performance of a hotel in a metro area. I will explore the conditions under which a hotel should consider a change in its service and when it makes more sense to bear with the current situation until business improves.
2. Data
Data from 1994-2019 is taken from the CBRE Trends® database of historical profit and loss statements. While not weighted to be entirely nationally representative, the sample includes more than 11,000 individual properties within upper midscale, upscale and upper upscale chain scales and provides some evidence of general trends across a broad swath of hotels. The historical trend across these three chain scales is illustrated in Figure 1: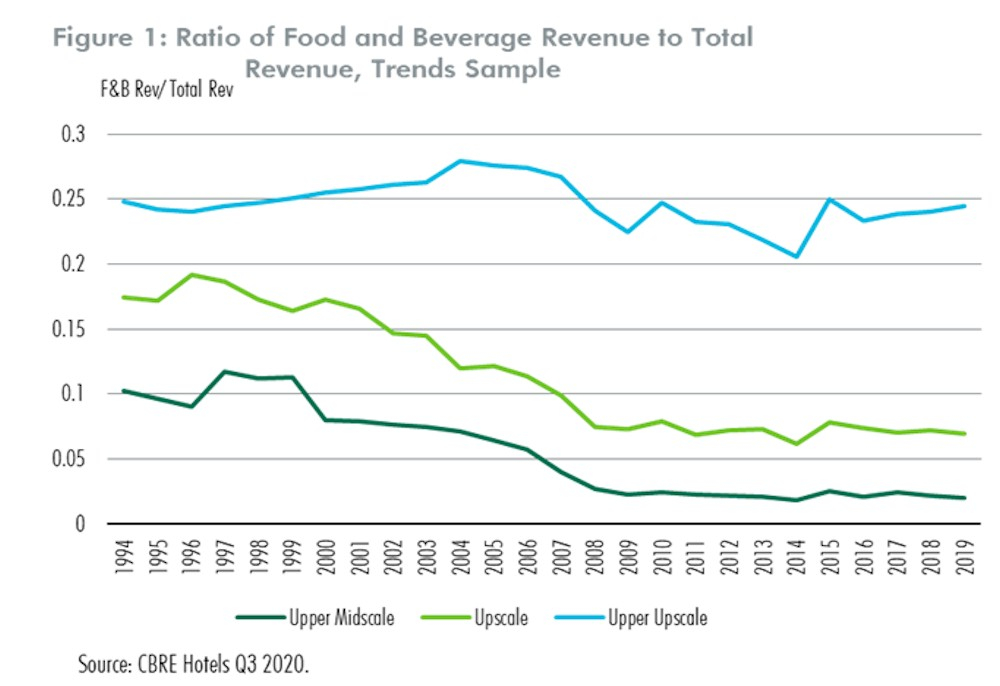 Upper midscale and upscale hotels have had a diminishing share of F&B since the late '90s. All three chain scales saw quickly diminishing share during the Great Recession; however, as upper midscale and upscale hotels saw a permanently lower share of F&B, upper upscale hotels struggled through some ups and downs to attain the same share as they had in 2000.
An important differentiator between upper upscale is meeting space, with the average meeting space in upper upscale hotels being approximately five times greater in upper upscale (22,000 square feet) compared to upscale (4,500 square feet) and 11 times as great as in upper midscale (2,000 square feet). Meeting space serves as a venue to serve F&B as well as the demand generator through group meetings. It has a strong, positive relationship with the importance of F&B in the overall revenue mix, as illustrated in Figure 2: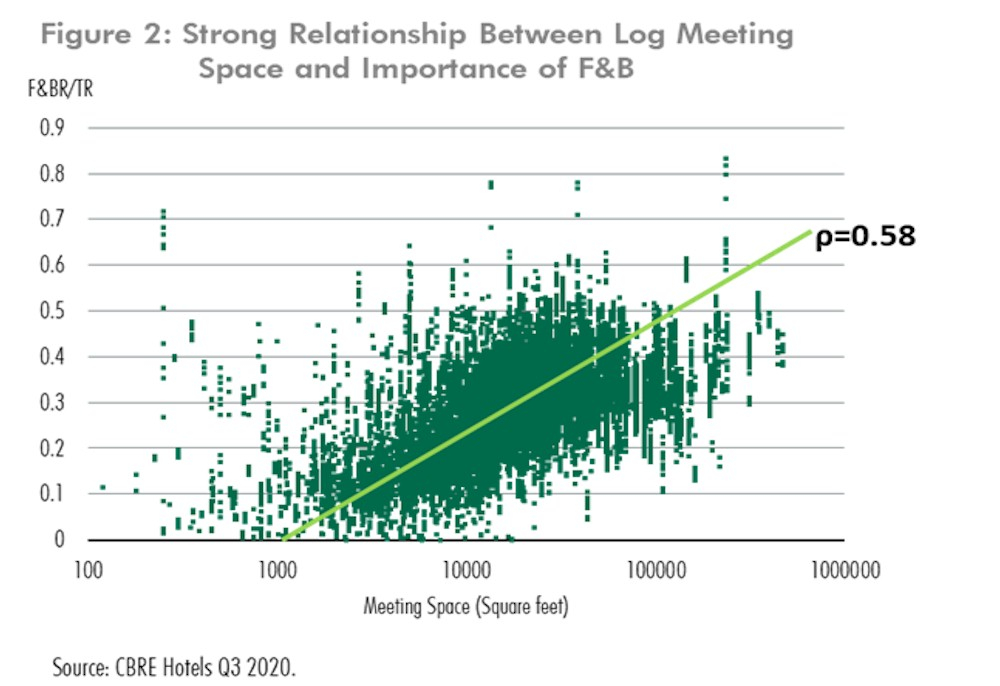 If meeting space also serves to regulate an otherwise uncertain stream of F&B revenue, then it could be the primary driver of the separation in F&B importance across the chain scales, with upper upscale hotels retaining the less volatile F&B stream through downturns and lower chain scales permanently reducing dependence on F&B in response to sharply declining revenues. In this scenario, group meeting space that can only be used in a limited capacity could change the decision-making behind retaining or changing F&B service.
3. Model Method
As an illustrative example, aggregate performance is taken from five upper upscale hotels in the downtown Boston market, proximate the CBRE EA offices but also the center of a well-developed upper-upscale hotel market with near-median meeting space. The average number of rooms is 440, with a F&B revenue-expense margin of 26.9%. Taking these aggregate starting values, the performance of the representative hotel is estimated through 2029 using the fixed proportion of property ADR and occupancy to the market ADR and occupancy in 2019 applied across CBRE Horizons® market forecasts. Summary performance is illustrated in Figure 3: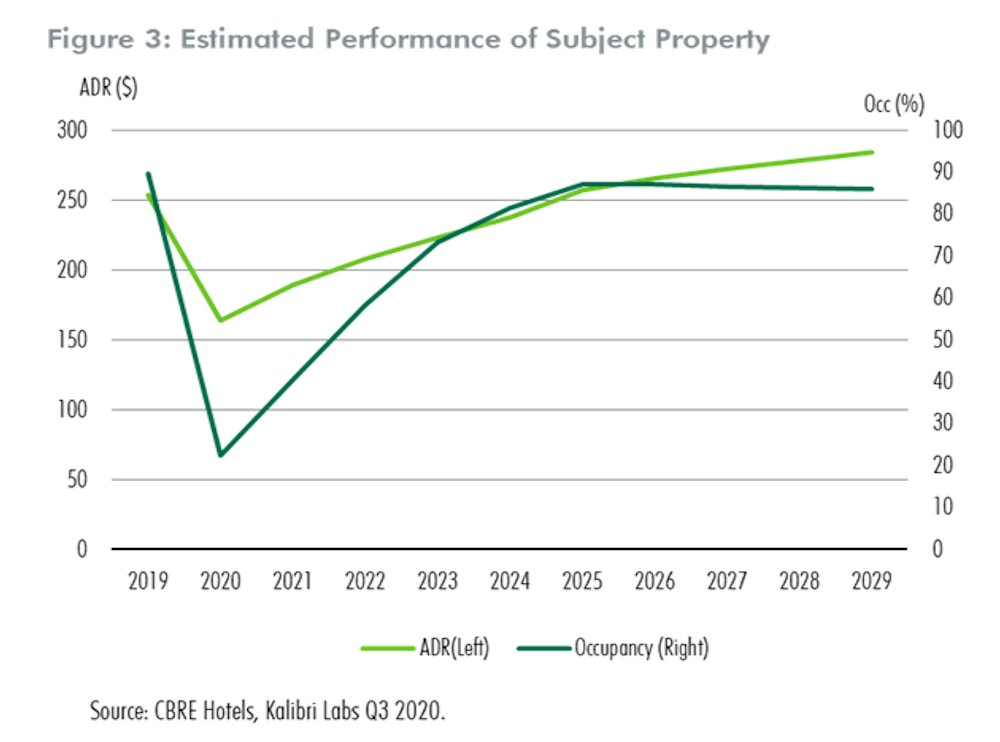 Similar to the market, the subject property experiences a sharp drop in occupancy, a slightly less pronounced drop in ADR, and recovery to 2019 levels by 2024-2025.
From the ADR and Occupancy predictions, estimations of the growth rate for various profit and loss statement line items can be estimated as well. The items of key interest for this study are F&B revenue and F&B expense. Tracking these two items, we can predict at what point F&B might become profitable and how long it takes margins to recover.
While the starting values are aggregated from five upper upscale hotels, the estimations of the relationships between variables is performed on 28 Boston upper upscale hotels with an average of 6 years of data each. The rate of change in F&B revenue is estimated using an equation that relates revenue change to the hotel level and change occupancy as well as an effect for the change in rooms revenue that is allowed to vary based on the amount of hotel meeting space. The F&B expense change is estimated using a quadratic specification of the previously estimated F&B revenue, occupancy and an index of real food prices. (The account for the possible endogeneity of F&B revenues and expenses, a three-stage least squares procedure is used on the system of equations).
4. Results
The amount of meeting space for our representative hotel is about 20,000 square feet. The simulation evaluates performance under two scenarios. In the first, the "high capacity" scenario, social distancing protocols limit the use of available meeting space to 75% of the total capacity so that the hotel is evaluated as if it had 15,000 square feet of meeting space. The other, "low capacity" scenario contemplates social distancing limiting use to 50% of total, or 10,000 square feet. The results are illustrated in Figures 4 and 5: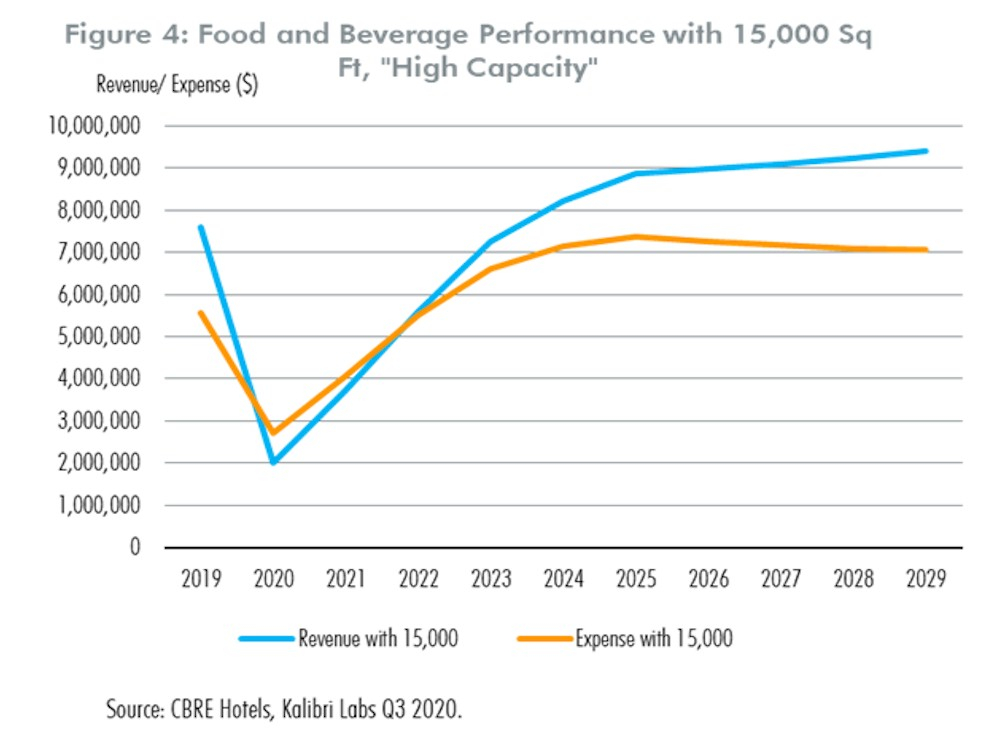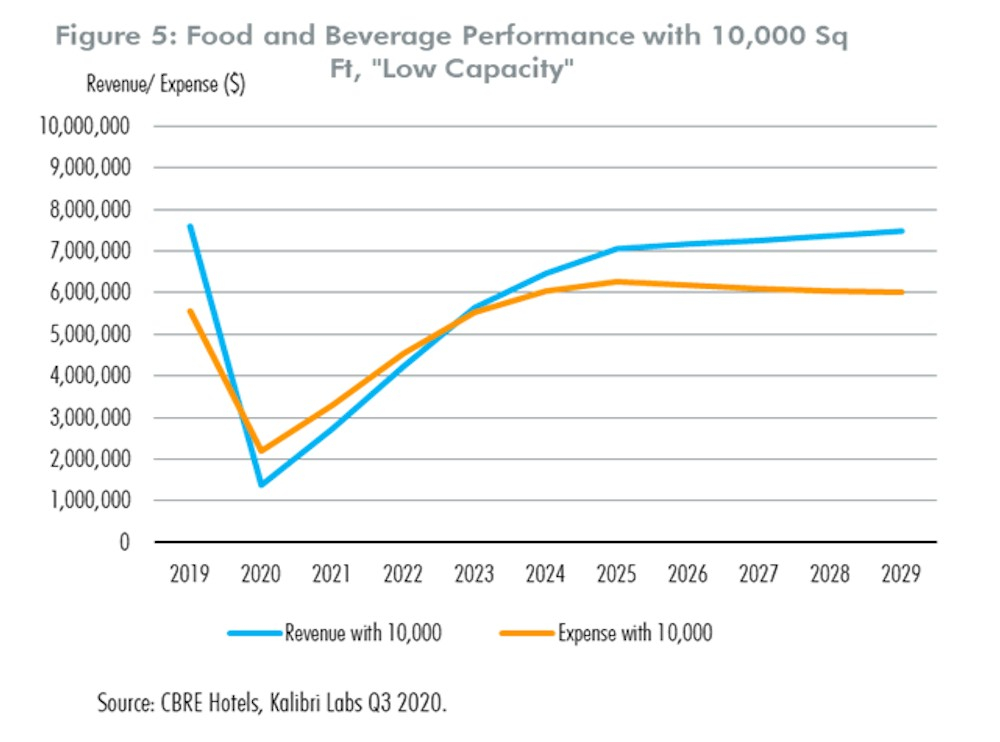 In both scenarios, expenses are less volatile than revenues due to the fixed costs associated with maintaining a F&B department. The revenue recovery is notably more aggressive in the "high capacity" scenario. With 15,000 square feet of usable space, the representative hotel is able to restore departmental profitability by 2022. Margins fully recover by 2025 or 2026. Afterwards, expenses flatten as occupancy declines when supply growth resumes and accelerates. Revenue opportunities continue to broaden.
On the other hand, at 50% capacity, the "low capacity" scenario takes longer to recover. Profitability returns by 2023, and the margins do not fully recover until 2029 or perhaps later. Although expenses are lower than in the "high capacity" scenario, they do not diminish as much as revenues proportionally, creating a long-lasting reduction in the F&B margin.
Moreover, F&B revenues fall farther in the "low capacity" scenario, providing some evidence that meeting space is useful to reduce volatility in the F&B department. With a lower 2020 bottom and slower growth rates, the "low capacity" scenario also reduces F&B revenue's share of total revenue, raising the possibility of declines in F&B importance for at least some portion of upper upscale hotels during the COVID-19 downturn.
Conclusion
While the model presented here is stylized to bring forward the effect of meeting space, it demonstrates a plausible role for meeting space as the differentiating factor between upper upscale hotels and the middle chain scales with respect to the divergence in the importance of F&B revenue over time. From a predictive or operations standpoint, the message is direct. Although F&B departments can profitably be operated in upper upscale hotels with some diminished capacity, when capacity diminishes below 75% to 50% or even lower, serious questions arise regarding the sustained operation of F&B, at least until additional capacity can be again used.
Lower margins associated with significant meeting space capacity reductions also mean that other, more profitable use of the space and investment might be considered, whether for additional guest rooms or other revenue sources. In cases where strict restrictions are put into place and then lifted, another possibility is aggressive initial promotion of the use of meeting space to stimulate the F&B base from a low bottom.
The author would like to extend special thanks to Robert Mandelbaum for his help in preparing the data used in this paper.
HotelExecutive retains the copyright to the articles published in the Hotel Business Review. Articles cannot be republished without prior written consent by HotelExecutive.