The New Guest Service: Providing Value and Safety and Assurance
By Robert O'Halloran Professor & Director, Hospitality Management, East Carolina University | April 11, 2021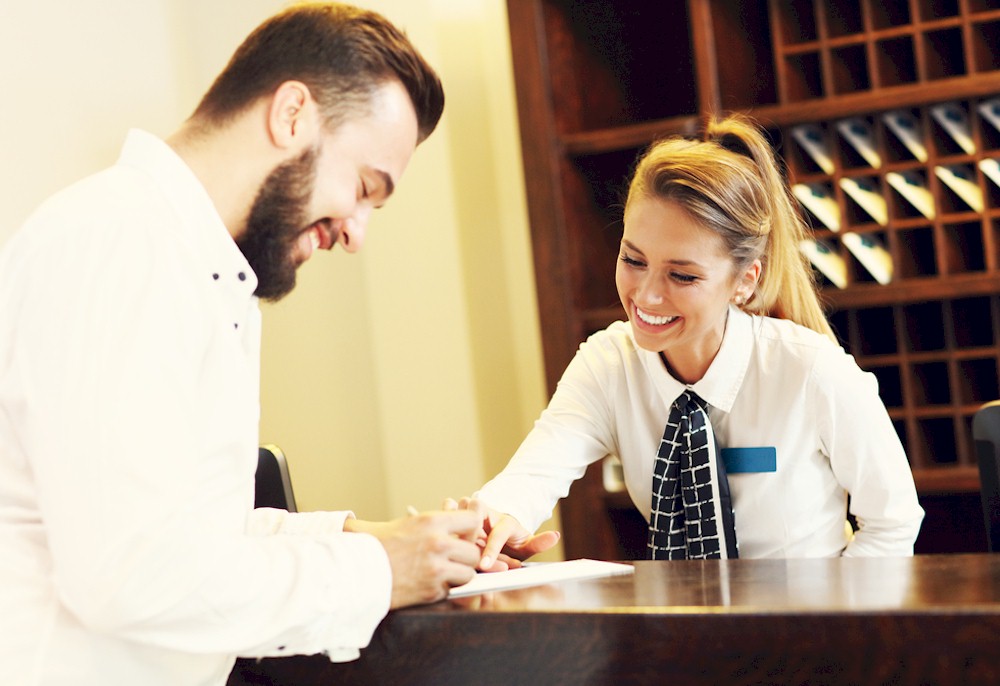 Guest service is an elusive term with multiple definitions. Each guest is provided the opportunity to define service for themselves. The issue is that each hospitality business has its own service brands; both personal service from employees and structured professional service offered by each business or company. Both are important to providing quality guest service.
The term hospitality is linked to guest service. Hospitality in some cases is considered an act of being hospitable. However, the word hospitality also describes lodging, food and beverage, meetings, and events etc. as an industry. In "Setting the Table", by New York restaurateur, Danny Meyer, the book captures the attention of hospitality businesses and points out that excellence can be achieved only if companies treat their customers (and their employees) with warmth, genuine kindness, and thoughtfulness, in addition to the processes of effective service management (Goluboyskaya et al. 2017 In Ribustello and O'Halloran, 2019).
When we think of guest service in lodging, the phrase "ladies and gentlemen serving ladies and gentlemen" comes to mind and is often attributed to the Ritz Carlton, though I have heard people from the Greenbrier dispute this in the past. Service at a Ritz Carlton has different expectations than service at a Super 8, neither is right or wrong but both can offer quality guest service connected to their brand. Guest service has evolved into more than amenities and pleasantries. In the time of the pandemic, service needs to also offer productivity and efficiency.
Additionally, guest service needs to reflect business knowledge, empathy for guest perspectives, and also a focus on guest safety. A guest's information safety provides guests a sense of confidence such that guests have the information they need to make good decisions and are using information that is trustworthy (Adapted from Berry et al, 2020).
Service Management
Service management has been a focus of study for some time. In a recent case study, the authors cited Goluboyskaya (2017) to indicate that that service paradigms were the philosophical and theoretical frameworks for the study of hospitality. Additionally, questions are often asked about guests versus customers and the service frameworks that may exist in multiple service settings. Service must provide value, which can be thought of as the connection between price and quality.
Guests can recount positive service experiences, but typically guests share the negative experiences. In the modern more online or virtual service experience, hotel businesses need to create a service atmosphere even if it is on Zoom or Teams. The act of hospitality and/or service means different things to different people. Terms like friendly, helpful, knowledgeable, proactive, benefit, courtesy, assistance, kindness, attentiveness can all be part of a working and applicable definition of service. Making service a personal guest experience has significant value (Ribustello and O'Halloran, 2019).
As part of what has been referred to as reskilling, guest services include job knowledge, training and acts of friendliness, but it also must include concern for guest safety, personal attention, professionalism, and knowledge of technical aspects.. If a guest asks a housekeeper, what are the cleaning protocols of a hotel, the employee should be knowledgeable enough to share an answer. Or those questions should be easily answered online and or via social media for all hospitality businesses.
Guest service, including guest safety, needs to be obvious and evident from photographs of a hotel property. The guest service process also needs to begin before check in. The American Hotel and Lodging Association has published a Safe Stay document that is updated and regularly amended (adapted from AHLA, 2020). Guests have free access to Safe Stay policies and procedures at any time via the AHLA site.
Broad Appeal of Service Skills
We as, lodging, hospitality, or tourism businesses and professionals, are at our core, a service industry. Lodging, food and beverage and tourism have led the effort regarding service and should continue to be the service leaders. In the times of the pandemic, guest service, service management, and service marketing have increasingly become valued knowledge, skills, and abilities.
For our own part (hospitality business education), recruitment of our hospitality business programs has become much more diversified in types of organizations expressing interest in our students. In recent years, we have seen an increase of recruiters from healthcare organizations, human resource companies (recruiting), clothing retail, grocery retail and in one example a paint brand company. These companies are in addition to the lodging, restaurant, resort, private clubs and other attractions and infrastructure that continue to be a part of our core of recruiters. The question is, why would these new companies reach out to us?
The answer, we believe, is that hospitality business graduates exemplify the combination business acumen and guest service that position them to fit in multiple businesses and organizations. Additionally, with the increased reliance on technology as part of service, students, that are provided sound hospitality business, technology courses and social media marketing skills are valued graduates recruited to enhance a business's overall guest service experience.
As the industry has seen, other service sectors have recruited and hired hospitality employees that have been furloughed or terminated due to the pandemic.. Research has shown that 85% (AHLA Foundation, 2020) of those that are still in the hospitality industry want to remain in our industry.
What will be new Lodging Standards of Service?
Guest service standards will and should include:
Product knowledge relevant to the hotel and or other hospitality business
Engagement service, where employees reflect empathy and personal service care.
Safety skills that focus on guest, employee and the general safety of lodging, food and beverage and other hospitality environments. Successful service transformation will be the key to success in a post pandemic guest service era. Making work and guest environments safer, being supportive of Safe Stay standards and implementing a range of physical safety measures to reduce service "touchpoints" that can carry pathogens (e.g., biometric facial recognition and other "touchless" technologies) to disinfect surfaces (Berry et al, 2020).
Technical additions to service focused on connectivity and efficiency and productivity focused on enhancing guest service. More specifically, some considerations for enhancing service will continue to be related to technology. What technology tools will be part of the service delivery? Blake Morgan, a contributor to Forbes discussed guest service innovations, notably all technology related:
Facial Recognition
Voice-Controlled Rooms
Robots
RFID Wristbands
Chatbots
Mobile Room Keys
Smart Amenities
Virtual Reality
Located-Based Services
Augmented Reality
Morgan (2021) summarized her list of innovations by sharing that the hospitality industry relies on experience to keep customers coming back. Innovating with the latest ideas and technology allows hotels to offer fresh, personalized experiences that guests crave.
Create a Blueprint for Guest Service Going Forward
The lodging industry needs to prepare a blueprint for guest service in the future. The characteristics of guest service were described by Waida in 2021 and included:
Detail. Attention to detail is an important service characteristic and can be tied to a great employee working environment.
Personalization. Customize a guest's experience.
Creativity. Creative ideas, creative decision making will differentiate one property from another. (Adapted from Waida, 2021).
In addition to these characteristics, a regular and continual identification, documentation, and assessment of guest service best practices will be helpful in planning guest service programs for hotels. The world of service businesses provides everyone, guests, employees and even competitors with the ability to observe guest service best practices. The nature of the industry provides a hotel the ability to copy and implement great guest service ideas.
New products and service o?erings in hotels have provided customers with increasingly diverse and unique services. Accordingly, providing unique experiences to customers enable hotel brands to achieve higher occupancy rates and higher revenue per available room than the average of the lodging industry in the U.S. (Adapted from Deloitte, 2010; Highland Group, 2015; Russell, 2015).
Finally, Baek et al (2020), noted that hotel guest experience is the totality of guest evaluations of di?erent service stages through diverse interactions and consumption. Indeed, the hotel product has been conceptualized as a set of attributes (Dolnicar & Otter, 2003; Kotler, Bowen, & Makens, 2006; Qu, Ryan, & Chu, 2000). The hotel product also includes intangible but necessary elements, such as the service delivery process (i.e., interactions with service providers and other customers) and necessary operations (e.g., front desk); purchasing the hotel product provides access to the core product and many value-added products and services as well (Kotler et al., 2006; Qu et al., 2000).
Ultimately, the lodging industry specifically, and the hospitality industry generally, must plan for a successful service transformation that will be key in the post pandemic guest service era. Service technology tools can enhance guest service by providing flexile, convenient, and efficient service systems.
Making work and guest environments safer and being supportive of Safe Stay standards and implementing a range of physical safety measures to reduce service "touchpoints" that can carry pathogens (e.g., biometric facial recognition and other "touchless" technologies) to disinfect surfaces (Berry et al, 2020) will enable the lodging industry and its employees to provide personal guest service experiences that will build into the future.
HotelExecutive retains the copyright to the articles published in the Hotel Business Review. Articles cannot be republished without prior written consent by HotelExecutive.