Hyatt Regency Waikiki Beach Works with Local Producers to Create Exciting, Healthier Menus
By Vince Brunetti Exec. Assistant Manager / F&B Director, Hyatt Regency Waikiki Beach Resort & Spa | August 26, 2012
In 2011, Hyatt Regency Waikiki Beach Resort and Spa introduced a new chapter in culinary innovation with the complete overhaul of its dining outlets – all part of a $13 million renovation which began in January 2011. The transformation, which took place in less than one year's time, brought with it a special focus on buying local, aligning with the Hawaiian philosophy of malama aina, taking care of the land that takes care of you.
Beginning with Shor American Seafood Grill, the food and beverage team began a transformation to all of its dining outlets with the goal of becoming the go-to dining destination in Waikiki. Through initiatives such as participation in Monterey Bay Aquarium's noted seafood watch program and increased use of locally-soured foods and products, Hyatt Regency Waikiki Beach is part of a new generation promoting sustainability. Today, shortly after the one-year anniversary of Shor, these changes are reflected in the dining outlets throughout the property from Japengo, with its Pacific Rim-inspired cuisine, to the more casual SWIM pool bar.
Additionally, this new philosophy is reflected company-wide through a new push to provide healthy, sustainable and responsible food and beverage options for guests and employees, and further emphasizes the principal of buying local. This renewed local focus is resulting in exciting, healthier menu options with a greater representation from island producers. This new global philosophy, "Food. Thoughtfully Sourced. Carefully Served." seeks to provide healthy food and beverage options for Hyatt guests and associates, which are in turn good for the local communities in which they reside and for the environment. These menu changes have impacted the food and beverage program from the operational level to the guest experience. The long-term evolution of the program will ensure that travelers will have a myriad of options to fit their needs and lifestyles.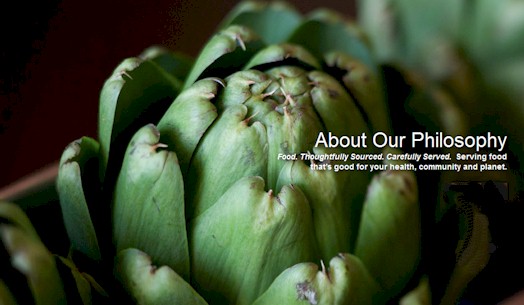 Hyatt's philosophy is grounded in three pillars. The first pillar is focused on healthy people and is implemented by providing portion-controlled, balanced offerings and natural ingredients prepared with nutrient-preserving cooking techniques. The second pillar is focused on a healthy planet by ensuring sustainable purchasing and operational practices which are intended to improve the long-term health of people and the planet. The final pillar supports healthy communities by sourcing from local suppliers as well as sharing knowledge at schools and actively supporting farmers markets and other community events.
Hyatt's 488 properties throughout the world, including the Hyatt Regency Waikiki Beach are working to reduce their impact on the environment and improve communities by buying local foods. At least five local ingredients must be used on every menu. At Hyatt Regency Waikiki Beach, even the bar menu is offering locally-sourced choices.