Elevating The Outdoor Experience
The Highest Expressions of Food, Wine, and Friendship
By Seliece Womble Director of Marketing & Public Relations, The Houstonian Hotel, Club & Spa | September 2022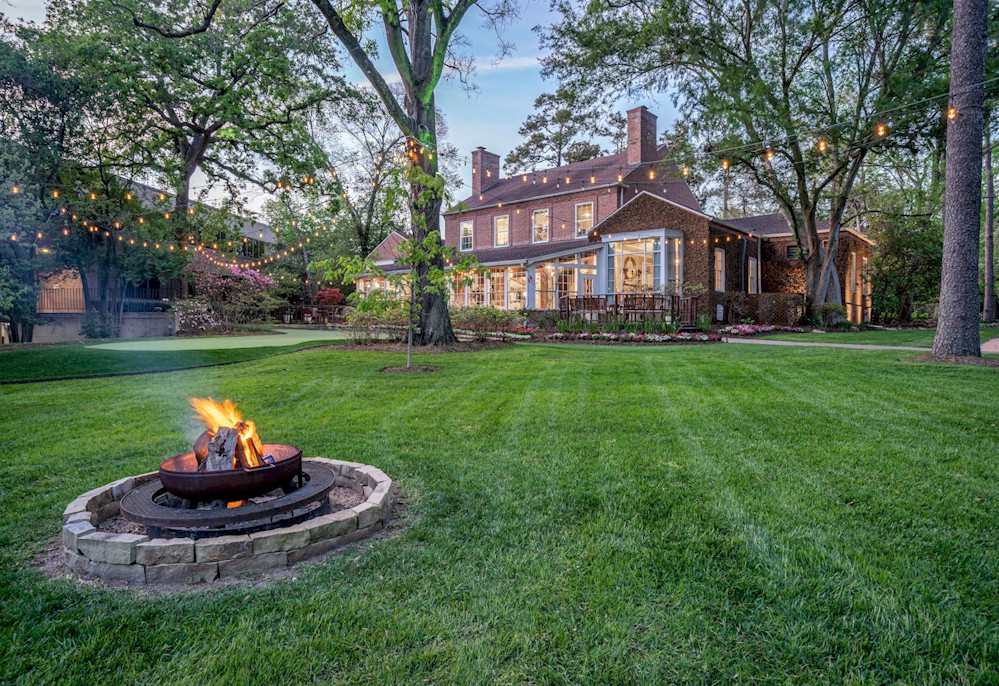 Post-pandemic, planners are finding many attendees continue to be sensitive to crowded rooms, closely set tables, and spaces with confining configurations.
Close to the heart of the meetings and travel industry is the awareness that sensitivities to proximity and wellness measures clearly guide purchase decisions.
According to John Solis, senior vice president of sales & client service for Visit Houston, outdoor activities have risen in their attractiveness, and ones that blend in Texas roots, space exploration, or international diversity are of the highest interest to meeting attendees. "Typical activities might include longhorns, astronauts, or James Beard recognized chefs along with live entertainment and fireworks to end the evening," he said.
In addition, planners say there are fewer cancellations with outdoor events should COVID cases tick up. "It is a comfort level for both the planner and the participant and an advantage to the extra space versus being confined to an environment that would not allow for distancing," says Heidi Schuette, a senior manager of travel and events with The Friedkin Group. Her team of event planners works with a variety of domestic, international, internal, and customer events. "We are picking more outdoor, mountain, and nature-friendly destinations that we would not have picked before. We are doing lots of mountains right now," she says.
Programming outdoor spaces at the 27-acre, 280-room Houstonian Hotel, Club & Spa located in Houston, Texas, began before the pandemic with the idea of creating experiences from what the independent property knows best – how Texans love to cook and eat. It also started with the determination to define Southern hospitality in comfortable outdoor spaces, with themes tied to their natural outdoor setting and history. Once the home of President and Mrs. George H. W. Bush, The Houstonian is known as secluded and quiet, with a massive private club where the former president played tennis, and a 1-mile jogging trail he would traverse often with his security detail.
The first themes of Texas, Louisiana, and Mexico were created to immerse guests with food, wines, and beverages that reflect dishes found and prepared in those regions. These experiences grew to include outdoor cooking methods and activities, and now there are a dozen themed experiences orchestrated primarily in five distinct outdoor venues representing 87,000 total square feet.
"We started the conversation about outdoor programming as a way to keep groups on-site and to give planners well-executed entertaining options," said hotel general manager Steve Fronterhouse. "But during the pandemic, being outside was attractive to not only groups but to transient guests also, so we added nature hikes, sip 'n' strolls, and picnic baskets so all hotel guests could do more outdoors," he added.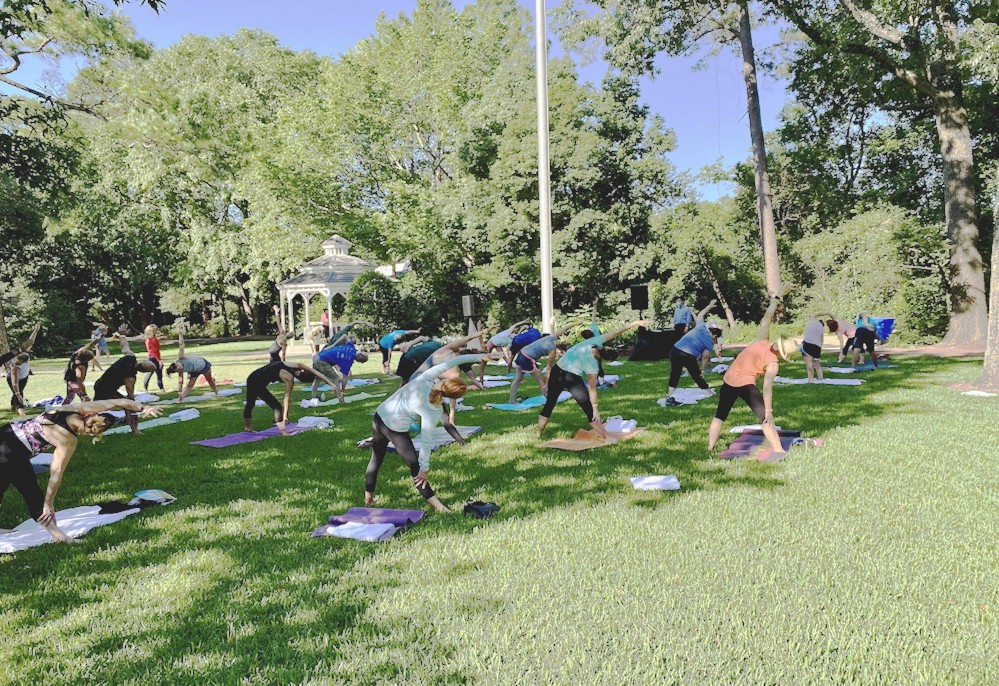 Yoga on the Meadow or Morning Stretch experiences can be planned for various hours of the day and customized to different skill levels.
The Meadow and Texas Live Oak
The largest outdoor space at The Houstonian is a rolling front lawn called The Meadow with a focal point of a 300-year-old Texas Live Oak tree, a favorite of brides and the most Instagram-worthy tree in the city. It is lit with over 10,000 lights and offers planners 41,895 square feet for events with up to 250 people. The tree offers an additional 3,017?square feet under its branches – an immersive backdrop for pre-dinner gatherings, receptions, corporate happy hours, and team-building activities. "Environments that really show off a destination or its natural beauty work well for welcome receptions and first impressions," says Schuette.
And for big impressions outdoors, enter Big Sam, a one-of-a-kind dual-axle pit manufactured by Pitmaker, a legendary pit manufacturer in Texas, which can be trailered alongside for the "Big Sam Tailgate" experience. This monster trailer, fittingly named as a tribute to the city's namesake Sam Houston, is ready to roll with a live-fire, grilled, and smoked menu of meats such as prime brisket, glazed pork ribs, wood-fried oysters, pork belly burnt ends, and sides such as central Texas potato salad, smoked queso macaroni, and creamy cilantro coleslaw.
The tree itself acts like a huge canopy, where guests can mix and mingle with cocktail or dinner seating, rattan or tree-hewn outdoor furniture, and a whisky barrel bar. Experiences to swirl and taste wine come with customizable party options such as the "Tasting Under the Tree" or "Taste Like a Sommelier," led by The Houstonian's knowledgeable sommelier.
More healthy options such as the "Yoga on The Meadow" or "Morning Stretch" experiences can be planned for various hours of the day and customized to different levels of involvement. Planners add custom yoga mats, water bottles, chilled face towels, and finish with fresh-squeezed juices in The Meadow's gazebo.
The "Blind Navigation" experience is like an outdoor escape room; teams use maps and a compass to compete with each other to plot and locate points while delegating roles and dealing with diverse ideas. At the end, teams use what they have to design and build a boat and take their creations to the sports pool and test them. "Team Resets" are short, energized group activities lasting 15-30 minutes that expose groups to fundamental team-building concepts, all in an accelerated manner. These plug-and-play activities are led by club trainers to break the ice at the beginning of a meeting or energize attendees after lunch.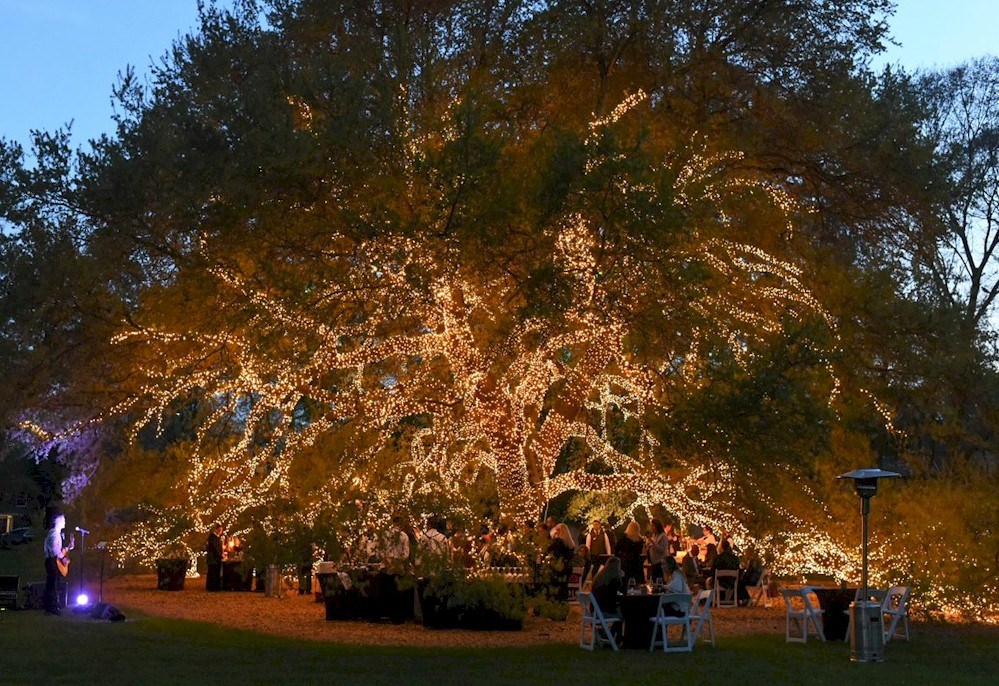 The Houstonian's Texas Live Oak tree offers 3,017 square feet under a canopy of lit branches, providing an immersive backdrop for pre-dinner gatherings, receptions, and corporate happy hours.
The Manor House Event Lawn
Located on property, an original home built in 1955 by renowned architect John Staub provides planners a connection to its political leadership and entertainment history.?The estate was once used as the hotel's guest house, and stars like Jack Nicholson (when filming "Terms of Endearment") and the King of Spain stayed there. The house was not only where the Bush family lived for a time before moving into the hotel, but where in 1990, President Bush hosted and dined with world leaders of the 16th G-7 Economic Summit. The home's Botanical Room was at the center of negotiations where summit treaties were signed.
A wall of windows in the space allows guests to look out over the Manor House event lawn and, depending on the time of year, provides a picture-perfect view of the property's show-stopping azaleas.?Events staged on the outdoor lawn allow for multiple table, buffet, grill, and entertainment options.
The 2,404-square-foot event lawn with its strings of lights has a fire pit with Adirondack chairs for s'mores and gatherings and packaged experiences such as the "Scotch & Fire" or "Texas Whiskey Tasting" where spirits are paired with Post Oak wood-grilled Bandera quail and ribeye steaks with optional after-dinner cigars for an entertaining evening. The pastry chefs can add Mrs. Bush's famous chocolate chip cookies (made with her gracious permission) for guests as parting gifts.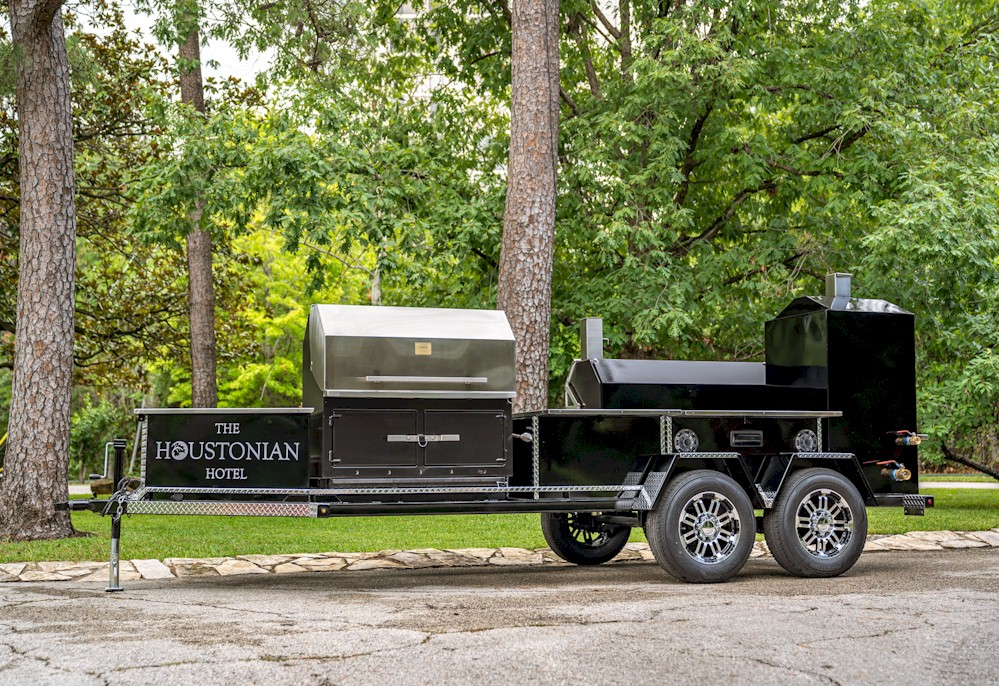 Big Sam is a custom-built, dual-axle BBQ pit ready to roll outdoors with a Big Sam Tailgate experience of live-fire, grilled, and smoked meats and sides.
Outdoor Venue Advantages & Operational Considerations
"The best hotels are the ones who think out of the box for the guest experience," says Schuette. She explains that properties with internal activity departments have an advantage as it is a one-stop shop and a practical choice. But as hoteliers know, activities, time, and talent are all-consuming and expensive. A facility fee at The Houstonian is required for the additional preparation and setup necessary for The Meadow, Live Oak Tree, and Manor House. The fee is to ensure the event space is in top condition and includes additional mowing and groundwork, insect control measures, preparation of lighting, and safety and repair supplies.
To facilitate the experiences, hotel sales managers communicate details to the meeting planner such as maximum number of guests, per person price ranges, and upsell ideas such as elevated linen, furniture, and decor. The planner is then introduced to the person coordinating the experience such as a club trainer, yoga instructor, the sommelier, or the property's in-house florist, who begins working directly with the client and in tandem with the sales manager to customize their experience.
Themed Menus
With any of the outdoor venues, planners can choose "The Big Texas Experience" with hors d'oeuvres such as mini brisket stuffed potatoes, fried pickles with avocado ranch, and dishes like King Ranch chicken, Dr Pepper-glazed pork tenderloin, smoked beef short ribs, and grilled ribeye steaks with marrow butter. With "flavors as big as our great state" the menu ends with desserts like peach cobbler, Texas pecan pie tarts, and Gran's buttermilk pie. The "Taste of Louisiana" menu includes "New Orleans-inspired recipes highlighting French creole culture" such as crab & corn beignets, cornmeal-crusted oysters, seafood gumbo, creole BBQ shrimp, crawfish etouffee, and smoked Cajun pork loin with bourbon pecan sauce.
The "Taste of Mexico" menu offers the "flavor and flair of central Mexico" with fare such as grilled street corn shooters, barbacoa, cochinita pibil, sopes, charred cactus salad, and chile relleno in nogada – pork with creamy walnut sauce and pomegranate, and finishes with desserts such as alfajores, tres leches, churros, and arroz con leche.
"Texans are outdoor people," said Fronterhouse. "There is much to express about how we love to cook and enjoy the highest expressions of food, wine, and friendship outdoors. Our executive chef is from Texas, our sous-chef is from Mexico, and our chef de cuisine is from Louisiana. Our experiences are like stories that we think we tell best because they are ours to share," he said.
Main Image: The historic Manor House estate has a 2,404-square-foot event lawn for gatherings and packaged outdoor experiences such as Scotch & Fire or a Texas Whiskey Tasting.
HotelExecutive retains the copyright to the articles published in the Hotel Business Review. Articles cannot be republished without prior written consent by HotelExecutive.