Guest Experience Management: Driven by Genetics, Environment or Both?
By Roberta Nedry President & Founder, Hospitality Excellence, Inc. | April 14, 2013
When my feet were hurting after three hours of delivering a workshop in Doha, Qatar in the Middle East to over 100 hospitality and concierge professionals, I asked my host, Randy Santos, the Les Clefs d'Or Chef Concierge of the InterContinental Doha, if he minded if I took my shoes off for a few moments before I went back on stage. About five minutes later, he had some hotel slippers delivered to relieve my aching feet. He sensed, even though I was working on his behalf, that there was SOMETHING he could do to relieve my pain and in turn, enhance my own guest experience taking place in his hotel. His efforts made me feel good and showed me that he cared, even during his extremely busy moments. He tuned in to my emotional need, and then surprised me with a solution. He made an empathetic connection, thought about what he could do to help and immediately took action. It's as if he had a sixth sense that propelled him to action…an instinct that kicked into gear as he tuned in to what his guest was experiencing.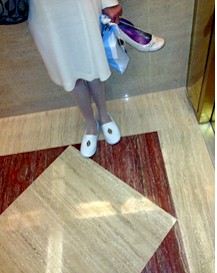 Slippers delivered by Randy Santos, InterContinental Doha
Upon another occasion, when my colleague and I checked in at the Omni Hotel at CNN Center in Atlanta, Georgia, our room was not yet ready and we had to rush to a 12 noon meeting that was about to begin. We had no time to spare and were feeling a bit stressed and harried as our plane had landed late, we had jumped on two MARTA trains, Atlanta's rapid transit system, walked a few blocks, carrying briefcases and luggage and arrived at the hotel frazzled. That's when Lorraine Beezley, Assistant Front Office Manager stepped in and calmly came to our rescue. She saw our dismay and frustration and checked us in quickly, reassured us that our luggage would be sent to our rooms and immediately sent us on our way. Our meeting did not end until after 7pm, without time to eat lunch. We saw Lorraine on our way back, told her how intense our day had been and thanked her again for taking care of rooms so we could just go collapse. Shortly after each of us arrived in our rooms, a beautiful tray of cheese, crackers, fruit and sparkling water was delivered. On the tray was a handwritten and very personalized note from Lorraine, expressing her appreciation for our business and offering to do anything else to make our one night stay, even though short, more enjoyable.
In only the few moments she had met us, she sensed how hard our day had begun and ended and went out of her way to make us feel welcome, relieved and comfortable. She made a huge impression on us that day and showed true signs of service leadership. Somehow she had the instincts to know how to deliver a guest experience that we did not anticipate having at all, understood how we felt and related to that emotion with her thoughtful gesture and delivery.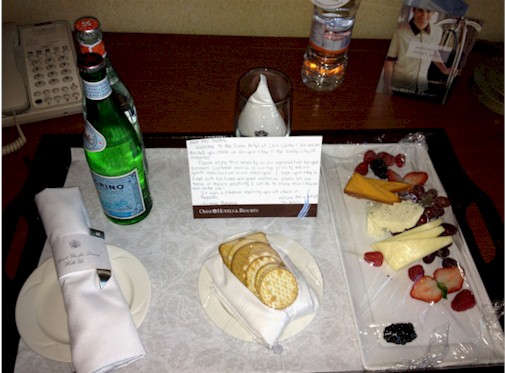 Thoughtful tray and handwritten note from Lorraine Beezley, Omni Hotel, CNN Center, Atlanta
In both of these examples, Randy and Lorraine seemed to have a sixth sense and a natural ability to relate to how the guest was feeling and then to deliver a service experience that would address those feelings. It almost seemed to be in their genes and that they knew what to do but perhaps something about their past experiences and training also made an impact. What is it that triggers that sixth sense and instinct in any hospitality employee or leader that propels them to action and knowing how to positively impact or enhance any guest experience moment? Is it in their genes automatically or can a proactive hospitality environment spark that inspiration? Can that sense and instinct be trained and if so, how? How can hoteliers sense making greater sense out of guest experience opportunities and the driving emotional factors that will lead to exceeding guest expectations and greater guest loyalty?